August 5, 2022
Welcome boxes are a fun and thoughtful way to greet your out-of-town guests from far and wide. As Charleston wedding planners, we're here to help you create a Charleston inspired welcome box. Our welcome gifts create an amazing first impression of the weekend to come and gives your guests a little taste of Charleston.
What to include in your Charleston Wedding Welcome Box
Welcome Note – Thank your guests for the miles they've traveled and let them know how grateful you are to celebrate with them! This is also a good opportunity to include information about weekend events and transportation if offered.
Complimentary Charleston Visitor Guide – Map Included
Water Bottles – Personalize with a custom label!
Weekend Survival Kit – Advil, Sunscreen, Mints, Gum, Emergen-C packs, Tums
Snacks – Pretzels, Lowcountry Kettle Chips, Holy City Popcorn, Saltwater Taffy
Local Favorites:
Local Charleston Cookies – Olde Colony Bakery – Lemon Cookies
Key Lime Cookies, Raspberry Cookies, Cocoa Cookies, Benne Seed Wafers, Cheese Zingers
Pralines – Market Street Sweets
Charleston Tea Plantation Tea Bags
Lowcountry Kettle Chips – Bloody Mary, Spicy Pimento Cheese, Mustard BBQ Sauce,
State Fair Fried Pickle, Sea Salt, Carolina Reaper)
Shrimp and Grits Mix – Charleston Specialty Food
Lowcountry Okra Chips – Charleston Specialty Foods
Charleston Coffee Blend – Charleston Coffee Roasters
Pecans – Molly and Me Pecans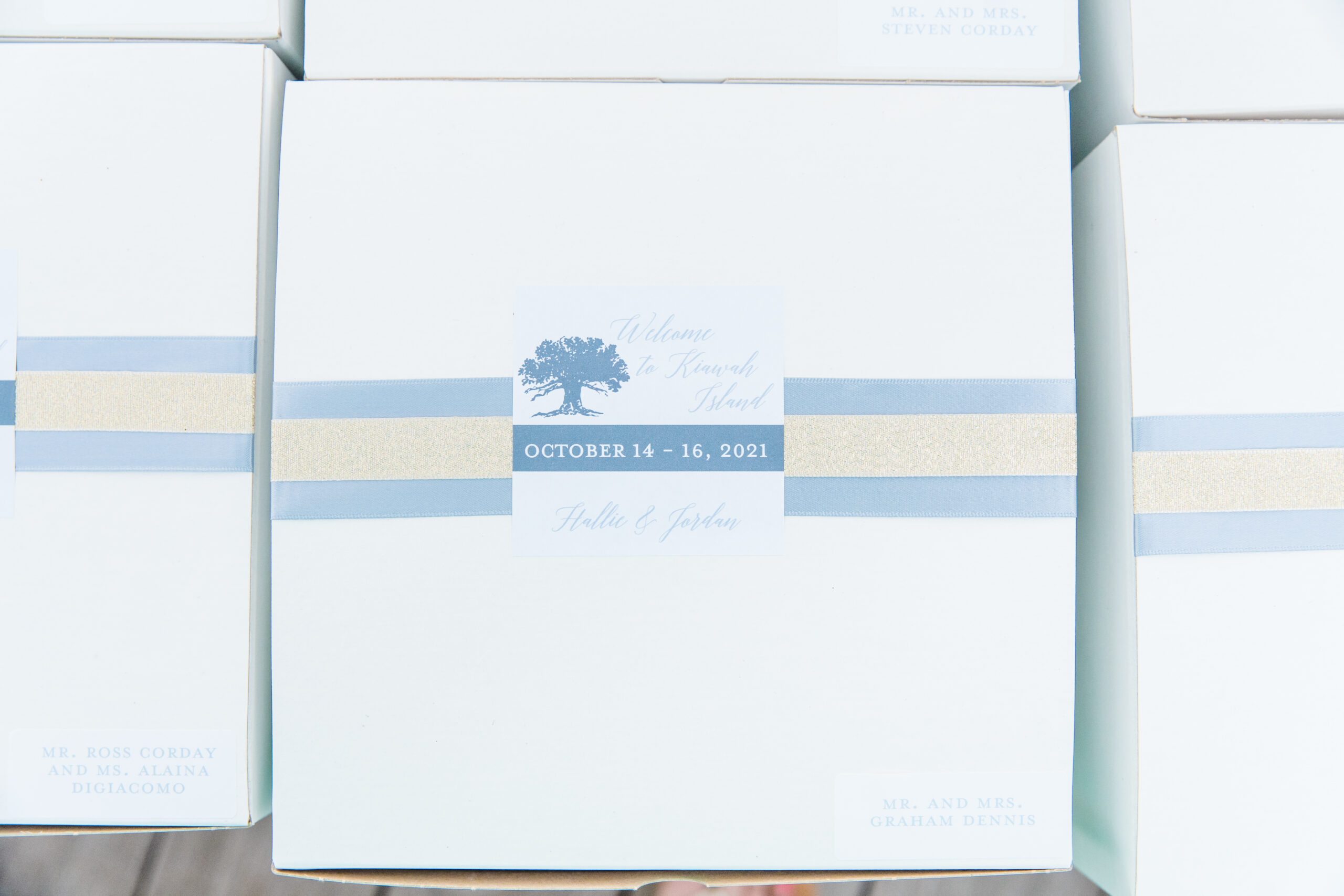 Reach out to your wedding planner in Charleston today for more information on wedding welcome boxes!