Tag Archive:
Charleston Wedding
Photos by: Bella Loren Photography
When you think of Charleston, what's the first thing that comes to mind? Personally I think of a gorgeous plantation, a beautiful water view, live oaks draped with Spanish moss, and a spectacular southern garden.  If this is your ideal setting for your wedding then the Carriage House at Magnolia Plantation and Gardens is the perfect venue.
You walk up and you have a breathtaking view of the Ashley River. It's the perfect back drop for the two of you to say "I Do". Imagine an aisle lined with hydrangea and rose petals with large wrought iron lanterns hanging from the trees. It's a warm sunny day with a cool breeze blowing off the water. Your guests are able to enjoy a refreshing glass of sweet tea while they anxiously await the bride and groom's arrival. Sounds like something from your dreams right? Well, we can easily make this a reality for you.
The patio is a great spot for cocktail hour. Guests can enjoy his & her cocktails and hors d'oeuvres while you are taking pictures. It's always nice to have a little trio or guitarist playing in the background during this time. There is also built in firepit on the patio, which comes in handy during the cooler months.
The actual carriage house itself is a blank canvas, which is great because your imagination  can run wild! No matter how many weddings we plan at this venue it looks completely different every single time. It's always fun to see what we can come up with next. We have had flowers dripping from the chandeliers, fabric draped ceilings, lounge furniture, and any color you can imagine. The design has ranged from more of a rustic feel to an elegant dinner and everything in between.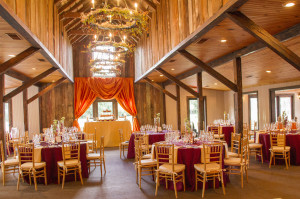 So by now, it must be pretty clear why the Carriage House is one of our favorite venues in Charleston. It's a picturesque setting for an outdoor southern wedding.  Your guests will be raving about their experience for years to come!
Magnolia Plantation Website:
http://www.magnoliaplantation.com/
Magnolia Plantation's 2015 Wedding Giveaway:
http://www.magnoliaplantation.com/events/wedding_giveaway.html
Amanda and Garrett
The Carriage House at Magnolia Plantation
June 8, 2013
Amanda and Garrett were married under the beautiful large Oak tree at the carriage house at Magnolia Plantation a little over a year ago. We were so excited to have their wedding featured in the recent edition of Charleston Style and Design Magazine.
Amanda is all girl through and through- favorite color is pink, loves anything gold, and a girl can't live without some lace in her life! So we decked out the Carriage House with all of the above. Her groom- Garrett- let her have her pink, her gold and her lace- and made sure he lived up to the  look by sporting a seersucker suit in sage green. – What a guy!
Because it was June- we wanted to make sure her guests were cool by using umbrellas at the ceremony area. Our traditional black Charleston style urns held the flowers and greenery for the "altar" area.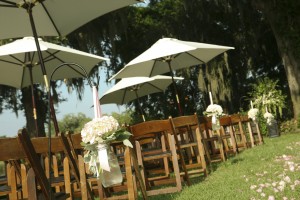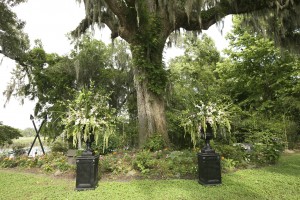 Inside the carriage house we draped in pink, flowers in cream and pink, containers and chairs in gold, and greenery & flowers hanging from the chandeliers.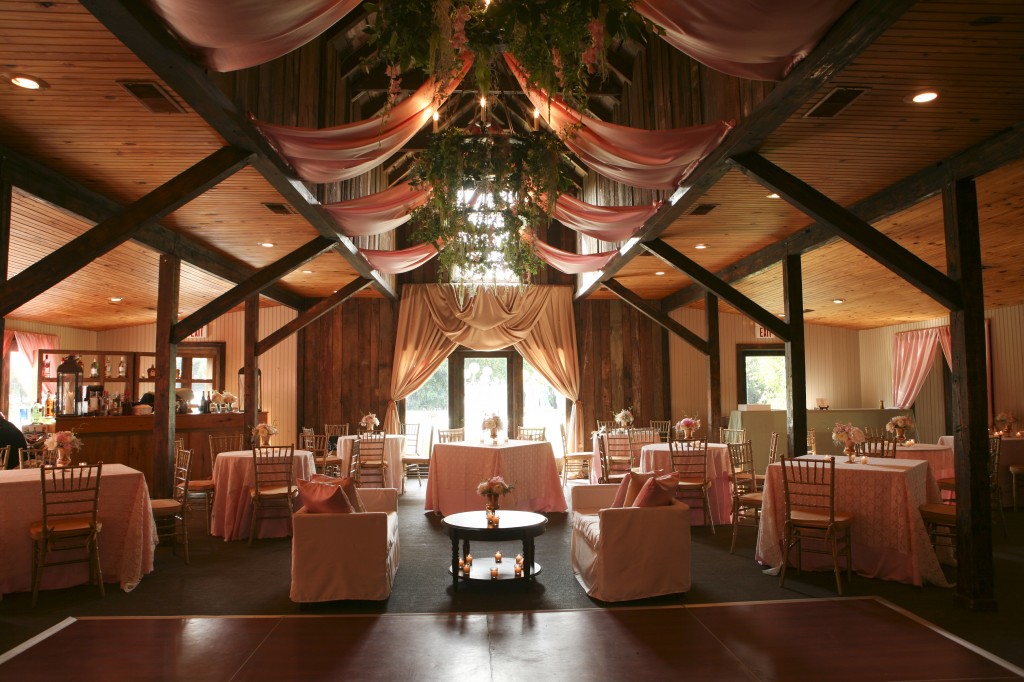 Amanda's dress was a show stopper with an underlay in blush pink and an overlay of lace..and Jim Smeal helped us carry on with the theme by using the pattern from her dress on the cake- it was absolutely stunning (and delicious!)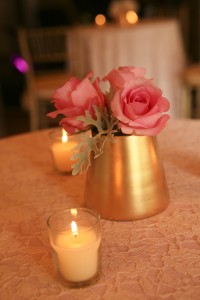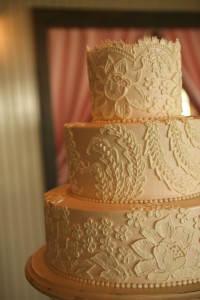 They had such a blast that nite- they danced the nite away, and ended the evening with a fun sparkler departure.
Happy Belated Anniversary – Amanda & Garrett!
Pearlann and Andrew
The Island House
May 18, 2013
A little over a year ago Pearlann and Andrew made it official at the Island House on Johns Island. You can see their wedding in the current issue of Charleston Weddings Magazine as well!
Pearlann was so busy with her residency during the wedding planning that she turned over the reins for the planning to her mom.  Pearlann loves the parties her mom throws at her home, and they have a similar taste in design and style, so it seemed like a natural fit for her. Pearlann has very vibrant personality but also loves rustic and more casual feel to things. So we utilized the farm tables, burlap runners, branches with lots of color in her flowers. It really seemed to fit her and Andrew's fun, vibrant, full of life personalities!
Their ceremony was held overlooking the water, with a rustic chuppah made of branches and mason jars with bright pink peonies on the aisle.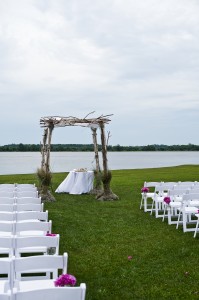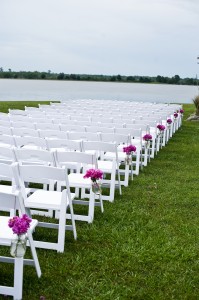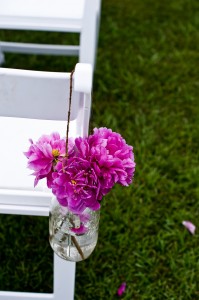 Cocktail Hour was held on the lawn and we created a garden party feel using rustic wood cocktail tables, umbrella tables, café lighting, and rustic wood bars.
Her  escort cards were displayed on vintage windows and in rustic wood boxes filled with split peas.
Dinner and Dancing were held under the tent with Custom branch chandeliers, additional café lighting and stone pathways leading to the bars!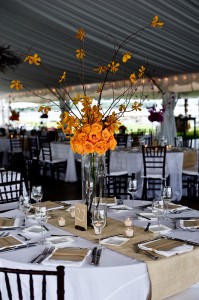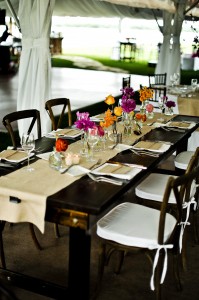 A great time was had by all- Happy belated Anniversary Pearlann and Andrew!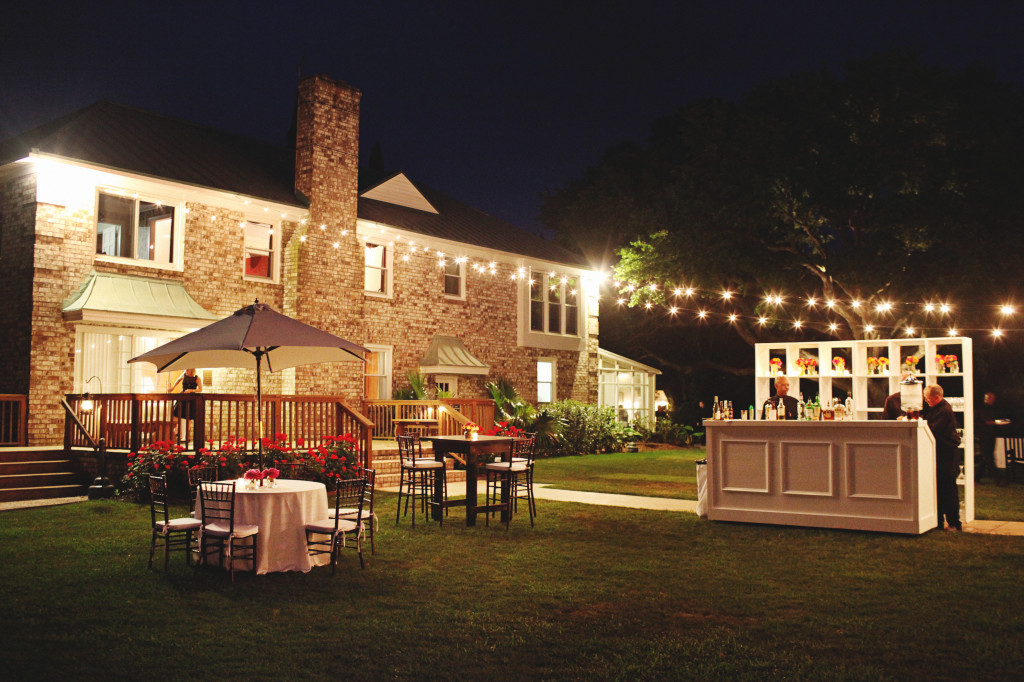 We are excited to share Amanda and Garrett's "Puppy Love"
Feature in Charleston Style + Design Magazine.
Amanda and Garrett were married at the Carriage House at Magnolia Plantation last summer.
We've added new items this spring to our décor inventory!
The first addition is our new rustic wood drink tower.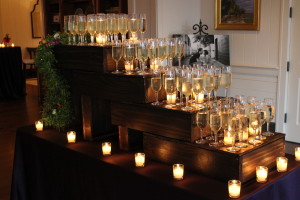 Next up we added a large inventory of silver hammered candle sticks in three different sizes.
We also added matching silver hammered urns in three sizes, perfect for floral centerpieces!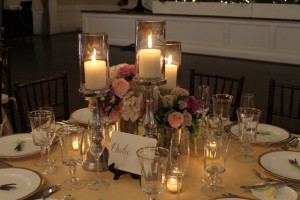 Our third addition is new vintage seating.
Included in this vintage seating is a bench, two chairs, and coffee table.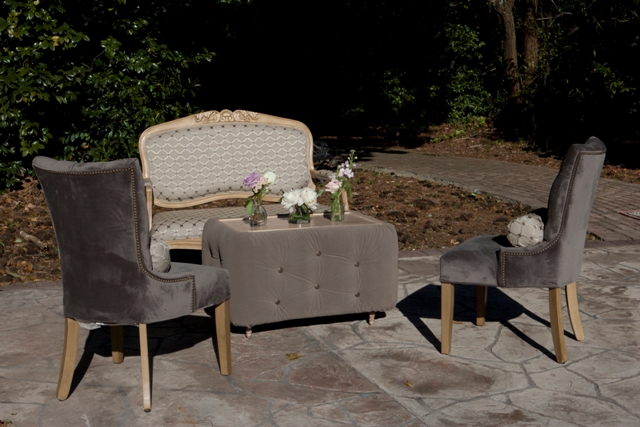 We are excited to announce we are the wedding coordinators for the
2015 Sharing the Romance Wedding Giveaway! 
The wedding will be held at Magnolia Plantation and Gardens, February 7, 2015. 
The deadline to enter ends May 15!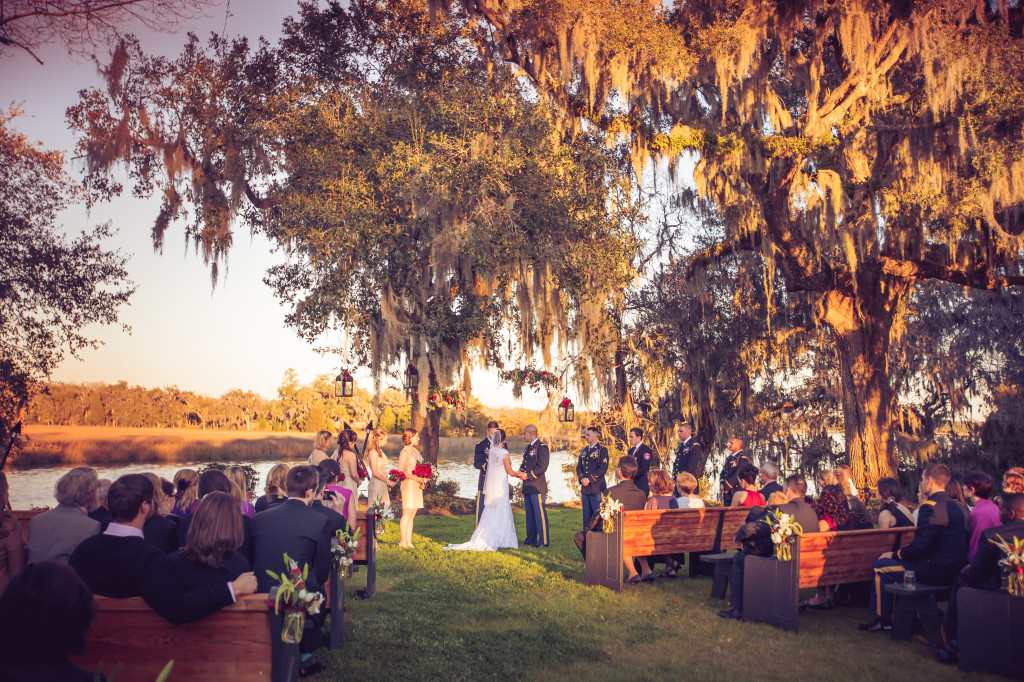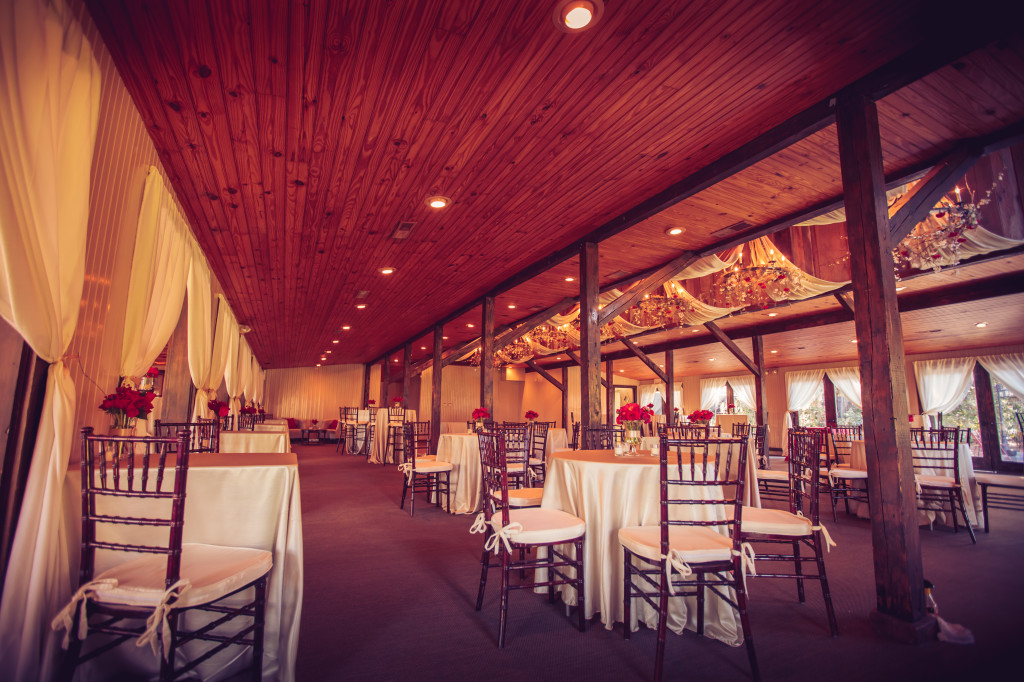 • ACW Limo – Limousine for Bride & Groom
• Artistic Eye Productions, video services
• Bellelina Skincare And Makeup Studio
• Charleston Place Hotel, two nights hotel stay
• Classical Charleston, ceremony music
• Complete Music of Charleston, DJ service
• David's Tuxedos – Tuxedo For Groom
• Elaine's Events, cake
• EventWorks, rental service
• Mix Charleston, bar service
• Mosaic Catering
• Richard Bell Photography
• Sndyer Event Rentals
• TapSnap1002, photo service
• Tiger Lily Florist and wedding floral designer Gayla Harvey, ceremony and personal flowers