The Carriage House at Magnolia Plantation
September 24, 2011
Congratulations to Nicole and Hector married one month ago at Magnolia Plantation!
It was a very challenging day for our crew, as the weather wasn't the clear sky, sunny, warm day we had all hoped for.
During the afternoon we had quite the downpour and the remainder of the late afternoon brought showers on and off.
This is a bride's worst nightmare when planning a ceremony riverside under a beautiful old oak tree.
However, Nicole and Hector had Engaging Events on their side!
 We had advised them to get a tent to cover the patio, just in case of such a scenario. We took it right down to the wire in terms of timing.
We had originally discussed making a decision on the location of the ceremony(under the tree or under the tent) 30 minutes prior to guest arrival.
When watching radar online it quickly became obvious that the decision was not going to be clear cut that far out.
 With their agreement we stretched that timeline– literally making the decision 15 minutes before the ceremony was to begin. Our waiting paid off…..
Nicole and Hector were married riverside, under a beautiful old oak tree, with the sun out…during the "kiss" it started to sprinkle…and I prayed once again for just a few more moments!
Well, the man upstairs delivered…and not only with holding off the rain for a little more time….but as Nicole and Hector recessed down the aisle..the Most Amazing, Vibrant, Brilliantly Romantic RAINBOW…YES RAINBOW I have ever seen appeared overtop of that beautiful old oak tree.
 Sometimes a special couple and a team of wedding planners just get lucky!
I don't often do this – here on the blog – but my many many thanks and kudo's to the Engaging Events crew for making this couples dream ceremony happen!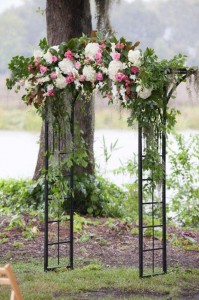 This beautiful wrought iron arbor was the backdrop for the ceremony riverside….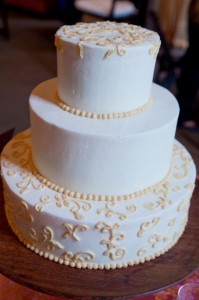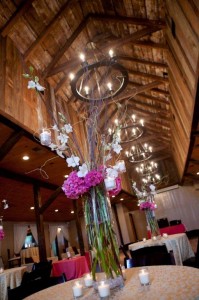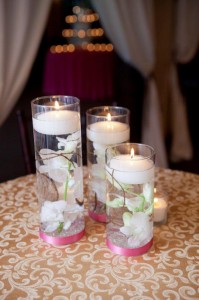 Many Thanks to Elaine Mincey for creating this wonderfully yummy cake with the linen design piped on….
Our wonderful florist – Judy Johnson – created centerpieces from inspiration photo's provided by Nicole..
….blooming branches, hydrangae and votive candles were one style of centerpiece, and submerged orchids and branches with floating candles fashioned the other tables.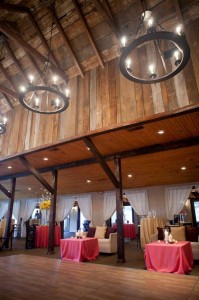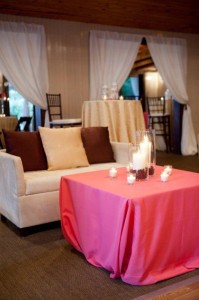 The Engaging Events team provided fabric draping throughout the space softening its rustic architecture.
Engaging Events sofa seating framed the dance floor creating a lounge feel.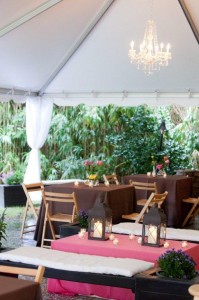 The Patio we tented as a ceremony back up location was allowed to house seating, food stations and bench seating as originally planned.
The Engaging Events crystal chandeliers added an element of formality to the area.
Once again, our congratulations to Nicole and Hector…..we wish them many many years of happiness and RAINBOWS!!!!