February 19, 2021
For some couples, the process of designing their wedding cake can be slightly overwhelming. If you find yourself pinning dozens of cake designs on Pinterest but are not sure what the next steps are, this is for you! Whether you are seeking a minimalistic feel or want your cake to be a showpiece, here are a few things to keep in mind.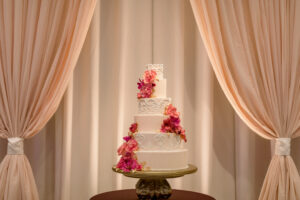 Plan Ahead
Don't wait! Selecting your baker is just as important as securing your other vendors such as entertainment, food, rentals, etc. Make sure to give yourself about 6 to 9 months to find a baker you love that can accommodate you and your date! With that being said, start to think about your day as a whole and envision what your cake will look like in your venue, with your decorations, floral and dress. You will want your cake to be compatible with your whole day!
Weather
In the lowcountry, the weather can certainly be a factor in wedding cake design. If you're celebrating outside under the oaks on a beautiful (but hot) summer day, you will want to make sure your cake can withstand the conditions that come with your season! The season can also influence the style of cake. Your baker will be able to guide you in the right direction as to what will and will not work on your day.
Finding Your Baker
Be sure to consider your location, venue and theme when searching for the right baker for you. Take the time to see and understand their style so you know what to expect. While most bakers love when you provide your cake inspiration, keep in mind that they are truly artists! They likely will not want to replicate an exact photograph but rather put their own twist to make the cake unique to you. Check out Wedding Cakes by Jim Smeal to see cakes that are true works of art!
Tasting
Once you've found your baker, schedule a date and time for a tasting with them. You will get to decide on flavors for the cake, filling and frosting. Have fun with it and don't be afraid to mix it up! Talk to your baker about your options and how you can incorporate different combinations and tiers. If you're from the south, it's tradition to have a groom's cake at the rehearsal dinner. Don't forget to incorporate those flavors as well!
Eat The Cake!
After cutting the cake and sharing a sweet moment as husband as wife, a lot of couples forget to eat more than what was lovingly smeared on each other's faces. Make sure your planner and/or caterer save some for you to share after!
Other Sweet Options
If you have any questions, we have answers!
Direct Message us on Instagram, @engagingevents