Blog
Hilary and Kyle's wedding was featured on The Wedding Row!
They were married this past spring at the beautiful Middleton Plantation.
We loved being a part of this lovely couples wedding, we hope you love it too!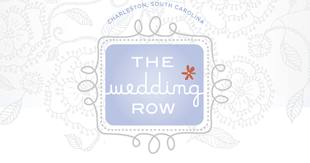 Many couples are worried about having a wedding in Charleston in the summer. While we all love the water and the beach in July and August- it can be very hot and very humid. We are excited to share a wedding we did last year for Michelle and Brad. Their wedding was in August, due to life commitments, it was really the only time they could have their wedding.  Michelle was concerned of course about the heat- so we set out to find the perfect venue for them – they were planning an intimate wedding of about 60 guests- and both of them loved the water, boating the beach etc.  We took them to the Historic Rice Mill and it proved to be the perfect fit- they were small enough to have their ceremony indoors if it was hot- but had an outdoor patio that would be an option if the temperature was more mild. We did end up staying inside due to the temperature but it was beautiful. Below is a photo of their ceremony space.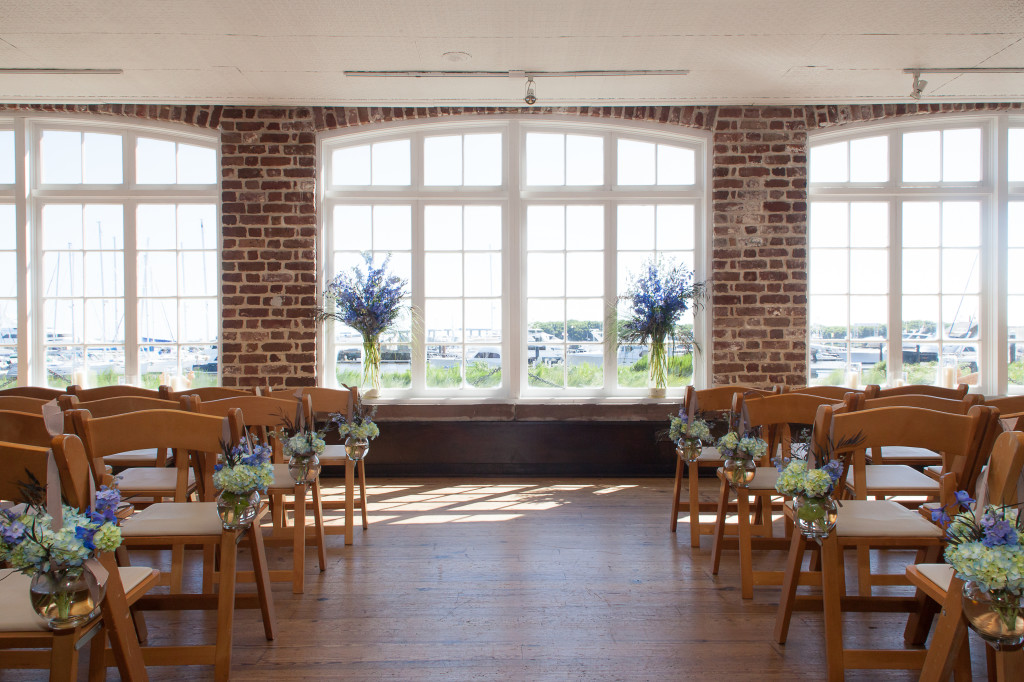 Michelle and Brad used our louvered shutters to hold their escort cards- fun!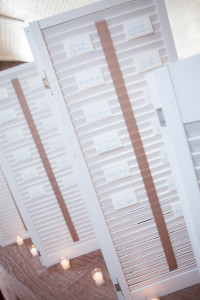 Elaine Mincey -created their oh so yummy cake- simple clean cake design displayed on the Rice Mill's beautiful vintage sideboard.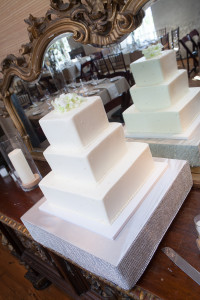 White orchids, candles and branches created such a beautiful atmosphere for their seated dinner.
They partied into the nite enjoying their water views from the porches and decks at the Rice Mill- ending it all with a departure by boat- Charleston at its best!
Thank you Michelle and Brad for allowing us to be a part of your special day!
The Island House
One of the hidden gems of Johns Island is the Island House. The Island House used  to be a family's private residence,  and a few years ago they decided to share it with the world and call it "The Island House". It is now one of the most popular locations in Charleston to get married. As you drive through the wrought iron gates a  gorgeous house appears out of nowhere with a breathtaking 180 degree view of the Stono River,  which always provides the perfect breeze.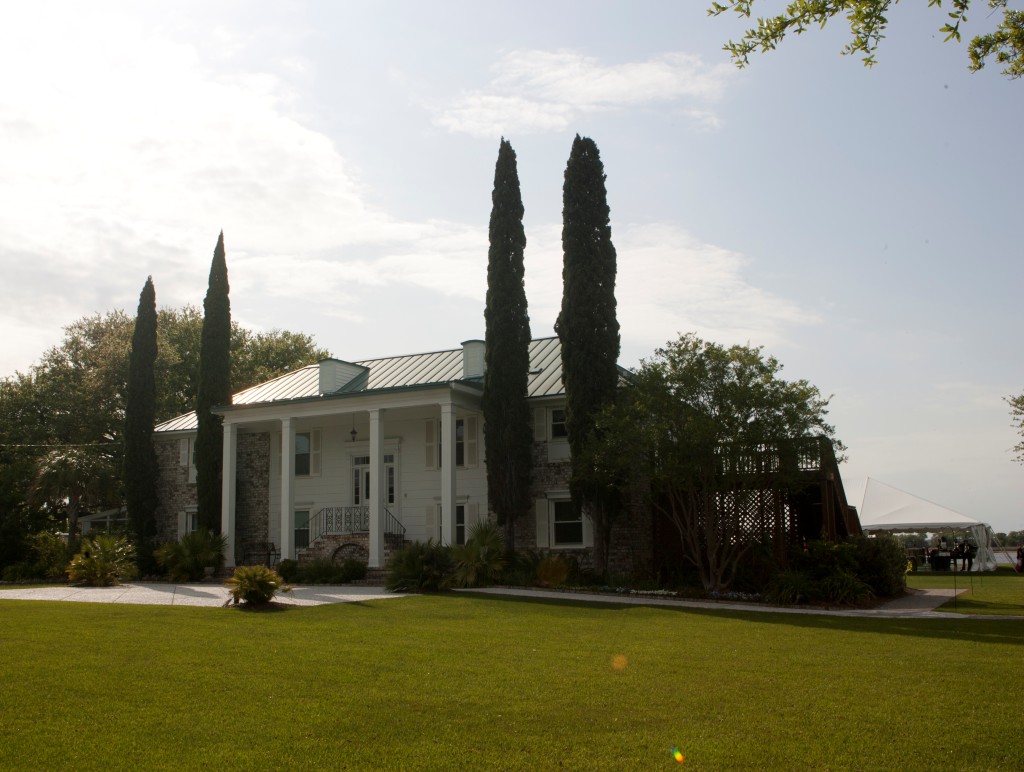 Envision yourself on the back lawn with a stunning view of the river for your ceremony. As your guests arrive, they find their seats in one of the wooden chairs tied with a colored sash and anxiously await your arrival. Mason jars filled with fresh flowers line the aisle. Simplicity is best here, your surroundings say it all.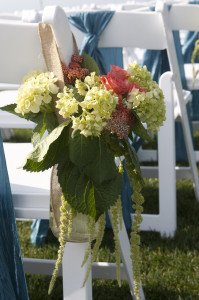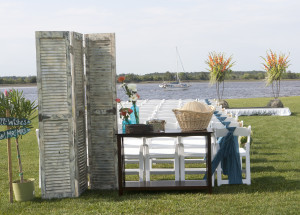 Hors d'oeuvres and specialty cocktails at the bar await your guests for cocktail hour. A little live music with someone playing the guitar is a nice addition. Your guests are mingling while you are off taking some amazing pictures on the property out on the dock or maybe in the field of wildflowers.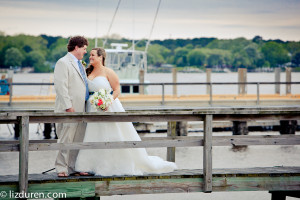 Now to the main event… An elegant tent with lighting and fun paper lanterns await your guests. This is the perfect venue to add pops of color either in your linen choice or flowers. Not your particular style, that's ok because this type of venue can accommodate any look from nautical, to modern, to traditional. If you dream it we can design it.
The departure is always fun. A rose petal departure  is pretty popular but, when you are right on the water why not depart by boat? Regardless of what you decide, your guests will be raving about your wedding for months to come.
A welcome gift at the hotels is one of my favorite gestures at a wedding. We usually suggest providing a welcome gift rather than a favor at the wedding. We find that a welcome gift at the hotel is something your guests can enjoy throughout their visit, and that favors are often overlooked at the reception.  A welcome gift is something that will certainly make an impression on your guests and gives you the opportunity to carry through your design motif in the design of the gift. We prepare welcome boxes for our clients as many of the hotels in Charleston do not have ample storage space for welcome gifts- and our boxes are stackable. Your guests have travelled a great distance and it is a nice welcome upon arrival to the hotel to receive these lovely boxes.
It is always good to include some local favorites. Charleston has so many great treats that it is hard to narrow it down to what will fit in the box! I would consider some of the following options.
*Charleston Chews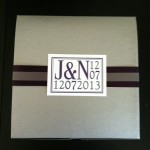 *Benne Wafers
*Pralines
*Cookies from the Charleston Cookie Company
*Sweeteeth Chocolate
*Candles from Rewined
*Sweet Tea Vodka
*Local Beers
*Advil
*Sunscreen
*Bottled Water
Besides the snacks, it's also great to provide a welcome note and itinerary of the weekend. The itinerary should include any information regarding activities the day before the wedding, the day of the wedding, as well as transportation information. It's also cute to include some of the things the two of you like to do or places the two of you like to eat. The possibilities are endless. Get creative!
 The Carriage House at Magnolia Plantation and Gardens
Jessica and Darren
July 7, 2013
If a soft color palette, organic flowers, and a little pizazz describes your style then you will love this Wedding! Jessica and Darren were married last summer at the Carriage House at Magnolia Plantation on a warm summer day. They were married under the sprawling oak tree with the Ashley River behind.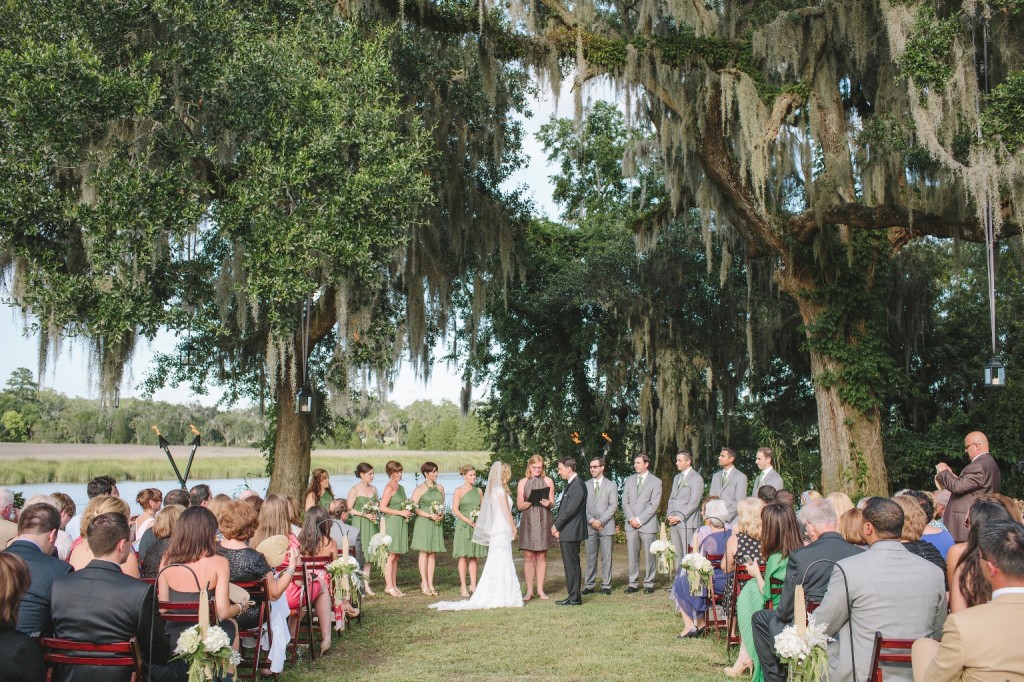 Jessica wanted some DIY projects and one of hers was to create her own bouquet from the many broaches she and her family had collected over the years….well done Jessica!
Guests were asked to "Leaf" their thumbprint on her thumbprint tree, and programs mirrored the setting featuring an Oak tree motif.
The inside of the Carriage House held a little more drama with our champagne fabric draping and fun paper balls hung above the dessert table.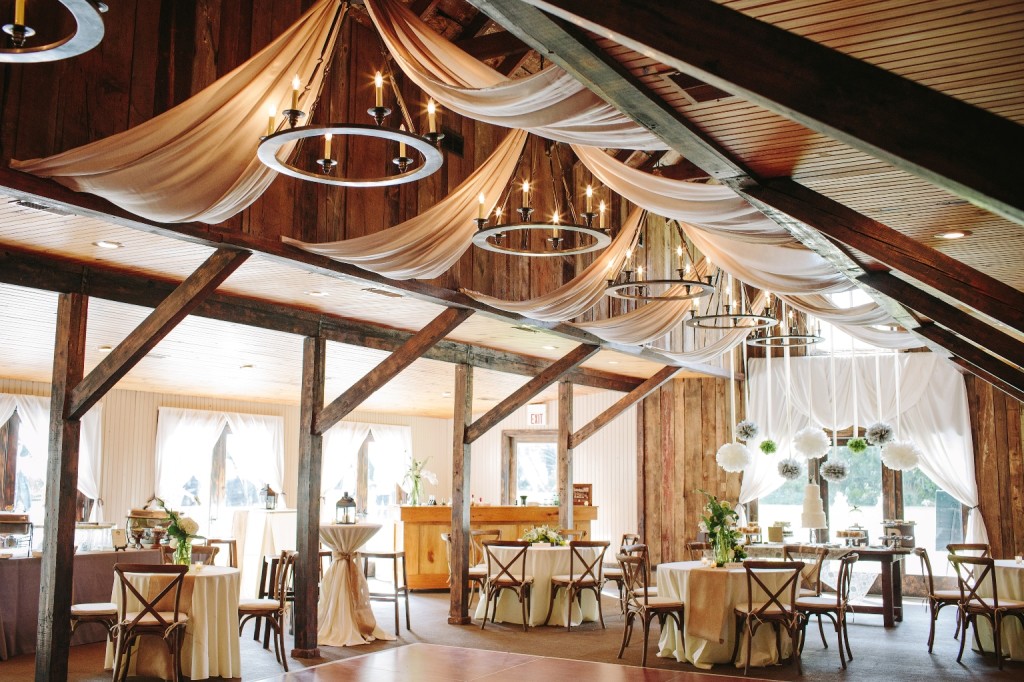 Since eclectic and organic was her "thing" the Engaging Events team created floral pieces that were lovely and visually interesting using scabiosa pods, fern, dusty miller, green button mums, and moss pods.
Many Thanks to Shannon Michele Photography for the lovely images….
When you think of Charleston, what's the first thing that comes to mind? Personally I think of a gorgeous plantation, a beautiful water view, live oaks draped with Spanish moss, and a spectacular southern garden.  If this is your ideal setting for your wedding then the Carriage House at Magnolia Plantation and Gardens is the perfect venue.
You walk up and you have a breathtaking view of the Ashley River. It's the perfect back drop for the two of you to say "I Do". Imagine an aisle lined with hydrangea and rose petals with large wrought iron lanterns hanging from the trees. It's a warm sunny day with a cool breeze blowing off the water. Your guests are able to enjoy a refreshing glass of sweet tea while they anxiously await the bride and groom's arrival. Sounds like something from your dreams right? Well, we can easily make this a reality for you.
The patio is a great spot for cocktail hour. Guests can enjoy his & her cocktails and hors d'oeuvres while you are taking pictures. It's always nice to have a little trio or guitarist playing in the background during this time. There is also built in firepit on the patio, which comes in handy during the cooler months.
The actual carriage house itself is a blank canvas, which is great because your imagination  can run wild! No matter how many weddings we plan at this venue it looks completely different every single time. It's always fun to see what we can come up with next. We have had flowers dripping from the chandeliers, fabric draped ceilings, lounge furniture, and any color you can imagine. The design has ranged from more of a rustic feel to an elegant dinner and everything in between.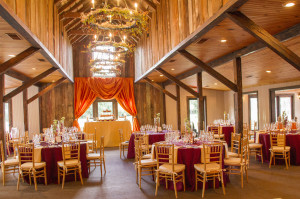 So by now, it must be pretty clear why the Carriage House is one of our favorite venues in Charleston. It's a picturesque setting for an outdoor southern wedding.  Your guests will be raving about their experience for years to come!
Magnolia Plantation Website:
http://www.magnoliaplantation.com/
Magnolia Plantation's 2015 Wedding Giveaway:
http://www.magnoliaplantation.com/events/wedding_giveaway.html
Amanda and Garrett
The Carriage House at Magnolia Plantation
June 8, 2013
Amanda and Garrett were married under the beautiful large Oak tree at the carriage house at Magnolia Plantation a little over a year ago. We were so excited to have their wedding featured in the recent edition of Charleston Style and Design Magazine.
Amanda is all girl through and through- favorite color is pink, loves anything gold, and a girl can't live without some lace in her life! So we decked out the Carriage House with all of the above. Her groom- Garrett- let her have her pink, her gold and her lace- and made sure he lived up to the  look by sporting a seersucker suit in sage green. – What a guy!
Because it was June- we wanted to make sure her guests were cool by using umbrellas at the ceremony area. Our traditional black Charleston style urns held the flowers and greenery for the "altar" area.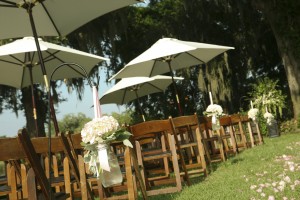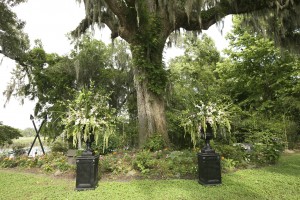 Inside the carriage house we draped in pink, flowers in cream and pink, containers and chairs in gold, and greenery & flowers hanging from the chandeliers.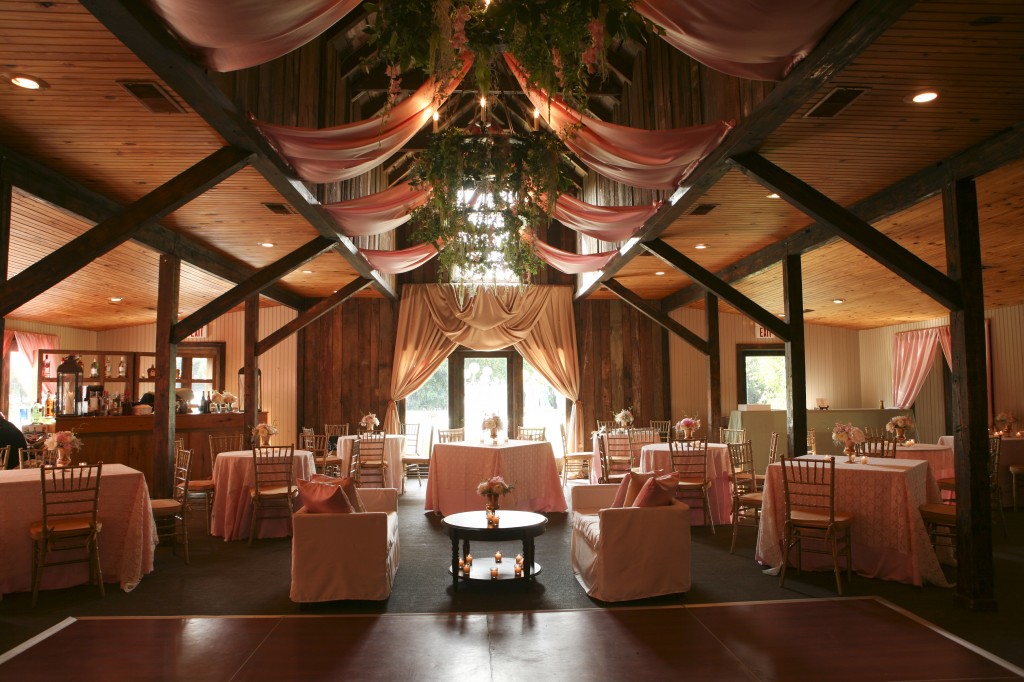 Amanda's dress was a show stopper with an underlay in blush pink and an overlay of lace..and Jim Smeal helped us carry on with the theme by using the pattern from her dress on the cake- it was absolutely stunning (and delicious!)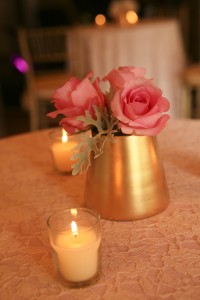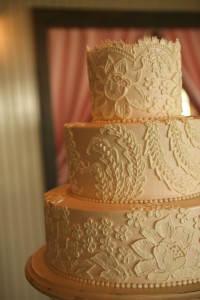 They had such a blast that nite- they danced the nite away, and ended the evening with a fun sparkler departure.
Happy Belated Anniversary – Amanda & Garrett!