I'on Creek Club
May 5, 2012
Laurel & Daniel
Happy Cinco de Mayo!! Laurel and Daniel began their new life together on this festive day…
As a nod to the holiday,  Laurel wanted to incorporate the Papel Picado flags into the design of their day.  As part of the Wedding planning process we discussed the options and decided to incorporate it into their wedding stationary, the cake design and a few banners hanging at the reception. The color palette of tiffany blue, grey, and yellow was beautiful for spring and looked great the Creek Club at I'on.
One of the ways we brought in the aqua blue color was using the antique ball jars that Daniel's mother and family all had in their collections…they made fabulous containers for centerpieces- and to add to the design our florist Judy Johnston fashioned budvases to match.
We wanted to "cozy up" the porch and added pale yellow draping to the existing columns, hung our crystal chandeliers, created candlescapes on the fireplace threshold and added sofa seating as well.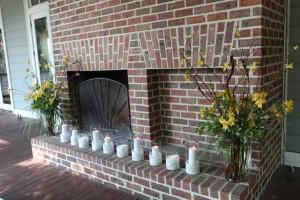 The cake was designed by Elaine Mincey which included her famous Sugar Magnolia's which was used as a design element on Laurel and Daniel's save the dates, and some of the Papel picado flags hanging from the cake.
Linens were grey shantung and Nile Blue Lamour from BBJ Linens- we added custom fabric runners to many of the tables and custom throw pillows in a light grey, dark grey and off white paisley print.
Our Congratulations to the happy couple!
Our many thanks to the following vendors:
Lea Dales for these set up  photo's, The Creek Club at I'on for the venue and catering, BBJ Linens, Eventworks rentals, Elaine Mincey for the cake, Lee Edwards Entertainment for the DJ service, Firecracker Bill for the rental tree's, Heather at Sixpence Press for the fabulous invitations, wedding programs and reception signage; and last but definitely not least- our own Judy Johnston for her fabulous floral designs!
We are excited to get photo's from Karyn Iserman – photographer- highlighting more images from this special day…..we will share them with you soon!