Harbourside East
May 19, 2012
Shannon & Philip
A stunning venue, a stunning view, a stunning bride and groom……we were so thrilled to be a part of Shannon and Philip's wedding day!
Held overlooking Charleston Harbor and the Cooper River Bridge they were married under a chuppah of white fabric and purple and white blossoms. A custom aisle runner bearing their initials, and framed with rose petals, was a beautiful walkway for the bridal party entrance. To add to the beauty of the setting we added Umbrella's to shield guests from the sun and add to the garden feel.
Upon conclusion of the sweet ceremony, guests proceeded to the reception site via a lantern lined walkway along the harbor.  They then took the stairs to the patio of Harborside East. They were greeted with a specialty cocktail and two tents with custom fabric draping and crystal chandeliers. The color palette of smoky purple, black and white was gorgeous! We added to the outdoor feel stringing cafe lighting between the two tents creating an open air cafe feel.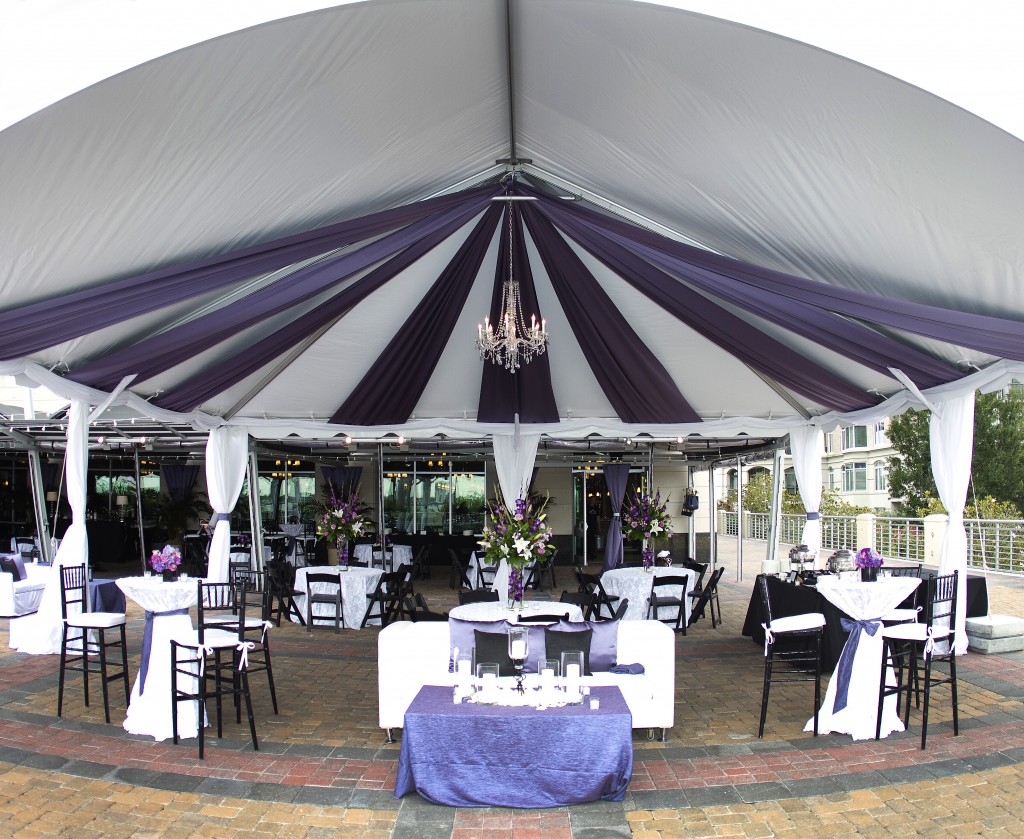 The inside of Harborside East has a distinct style that Shannon loved and we wanted to enhance – we embellished the existing chandeliers with orchid strands and little purple acolytes, hung custom fabric draping in the smoky purple color ….the result …a gorgeous room!
We were so thrilled to coordinate this wedding not only because it was a fabulous couple but because we are so excited that Harborside East has reopened…it is a great waterfront venue and we look forward to bringing you more Harborside East Events soon…
Many thanks to our vendors:
Lindy- Harborside East, BBJ linens, The Total Table linens, Photographer- Taylor Stewart, Jim Smeal– Wedding Cake, Mike and the guys at Atlantic Tents, Eventworks, The Root Doctors Band, Studio R – Wedding Invitations, and as always our wonderful floral team- headed by Judy Johnston.
Congratulations Shannon and Philip!!!!!!!!!!!!!