Friday, April 20, 2012
If you dream of a lowcountry wedding on the water then the I'on Creek Club may be the place for you.
It captured the eye of Gina and Jamie for their spring wedding. We were pleased to assist with their wedding design and be a part of their special day. Below- you see Gina headed down the aisle with her dad – thanks to the great photography of Mic Smith! We framed the "altar" area with wrought iron stands filled with beautiful yellow flowers- gladiolas', roses, calla lilies, lillies and charleston greenery. The aisle was framed with our white shepards hooks with hanging yellow mum pomander balls.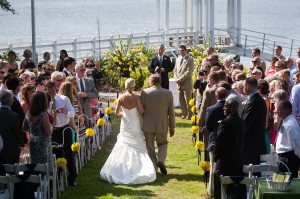 As guests entered the reception area they were informed of the tapas style station menu's with our chalkboard and easel.
Using cocktail style seating with green linens, navy runners and yellow flowers- spring had sprung!

In lieu of wedding cake- Gina and Jamie chose cupcakes from The Cake Stand and we embellished their look with cupcake wrappers in their colors and displayed them on our glass tower, and on our glass cake stands. We further added to everyones sugar fix by incorporating white candies in specialty jars.
The decor on the porch also incoporated our asian lanterns which were fun and white in the daylight; but also added to the atmosphere after dark when they had a charming amber glow.
You can also see our sofa seating area, coffee table, end table and lamp in use in the photo below.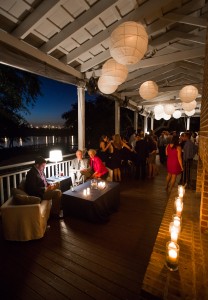 Many thanks to Gina and Jamie for incoporating us into their special day.
We would also like to thank our vendors: I'on Creek Club, The Cake Stand, Mic Smith Photography, Eventworks, BBJ linen for all their help in creating this special day for Gina and Jamie.