Old Exchange Building
April 14, 2012
Want a wedding that is a Charleston Wedding through and through? Well take a look at Elizabeth and Chris' wedding below- We were excited to be a part of their Wedding Planning process- we worked together for about 18 months planning this big day and enjoyed every minute!
They held their ceremony at St. Mary's Catholic Church- it is such a historic and beautiful church located on Hasell Street- we don't have photo's of the church yet but will share them with you when we do!
They followed that up with a reception at the Old Exchange Building….this building has such history, the declaration of independence was ratified in South Carolina in this building; George Washington attended balls at this building, and it also has a dungeon where pirates were kept. A must see if you visit Charleston!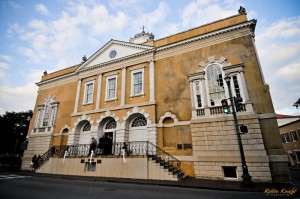 Guest were greeted by costumed guides that offered tours of the dungeon during the first 1/2hour of cocktails; below you can see photo's of the first floor room in the hall where we had hors d'oeuvres and a specialty drink of Sweet Tea Vodka and Lemonade- and finished off with a personalized tag and ribbon band – Tag was designed by Studio R Designs.
We were fortunate to have a Jim Smeal designed wedding cake as the dessert that evening- Jim incoporated into the design the design of the damask linens and their new "B" monogram- Thank you Jim for a gorgeous and delicious cake!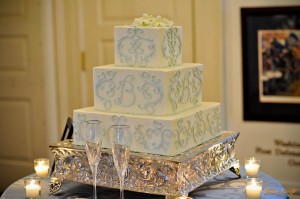 We "decked the hall" with beautiful blue damask linens, black chivari chairs, white floral containers filled with white hydrangea, blue delphinium, white calla lillies, and white dendrobium orchids. We also added beautiful charleston greenery and floral sprays to the existing mantles.
We want to thank Elizabeth and Chris and their families for allowing us to be a part of their special weekend- The weather was great, the food was fantastic, and everyone enjoyed this true Charleston experience!
Many thanks to our vendors: Robbin Knight Photography for these images,  Studio R Designs, Eventworks, Jim Smeal, Mosaic Catering, Soulfish, and the Old Exchange for helping us created a fabulous event for these great families!