The Historic Rice Mill
October 22, 2011
Laura and Jason tied the knot at The Church of Holy Communion on Ashley Avenue. The church is a beautiful place of worship..but what made it even more beautiful to this fabulous couple was its history….to her family….Laura's grandparents and parents were also married at this church….what a wonderful tradition for her to make her own….
They followed the wedding with a fantastic reception at the Historic Rice Mill..many thanks to the crew of Good Food Catering for another fantastic event.
Elaine Mincey created the cake; a design featuring "ruffles" of icing…one of Laura's favorite fashion trends…
We used the Engaging Events lounge furniture in the beautiful Marina room - a room with 3 walls of windows overlooking the marina and harbour. We paired our fun lamps with the sofa seating areas, which were adorned with throw pillows in the custom fabric we used throughout the design of the event. Laura created a fabric on a custom fabric website we then used the pattern as a  band and envelope liner in her invitation suite – created by Studio R Designs. We followed that up with using the fabric for throw pillows, runners and other custom accents. A printable vellum of the pattern to cover our glass cylinders helped to  customize the design of this wedding.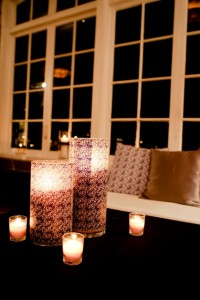 The fabric could even be found on our pendant lights on the patio!
One of our favorite flowers is the orchid and the one shown above is called "Sexy Blue" doesn't the name just make you want to buy it?!
In any case they looked fantastic paired with the custom runner….
We tented the open patio at the Rice Mill using a white tent with liner and lighting it with the  Engaging Events crystal chandeliers. A White plantation bar from Snyder Event Rentals, and the Engaging Events white back bar shelves added to the patio's charm. The raw bar provided by Good Food Catering…didn't hurt the popularity of this spot that nite either:)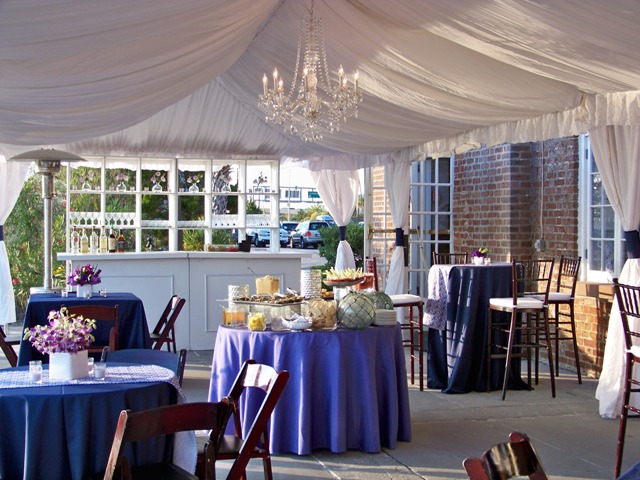 We wish Laura and Jason many happy years of marriage and were thrilled to be a part of their day!