Tag Archive:
Kiawah Wedding
Thea and Ron
September 22, 2012
30 Year Vow Renewal
Thea and Ron decided to renew their vows last September at the Ocean Course on Kiawah Island, and we were thrilled to be a part of it. There is something special about a vow renewal …. after many years of marriage still wanting to gather your closest family and friends to celebrate your love doesn't happen every day. I wish everyone experienced this special moment in their lives because while everyone is excited at a wedding for the couple to begin their lives together….at a vow renewal there is history and everyone knows the trials and tribulations that life has thrown the couple and yet they still pause to cherish their love. There is no greater happiness or excitement than you see at an occasion such as this….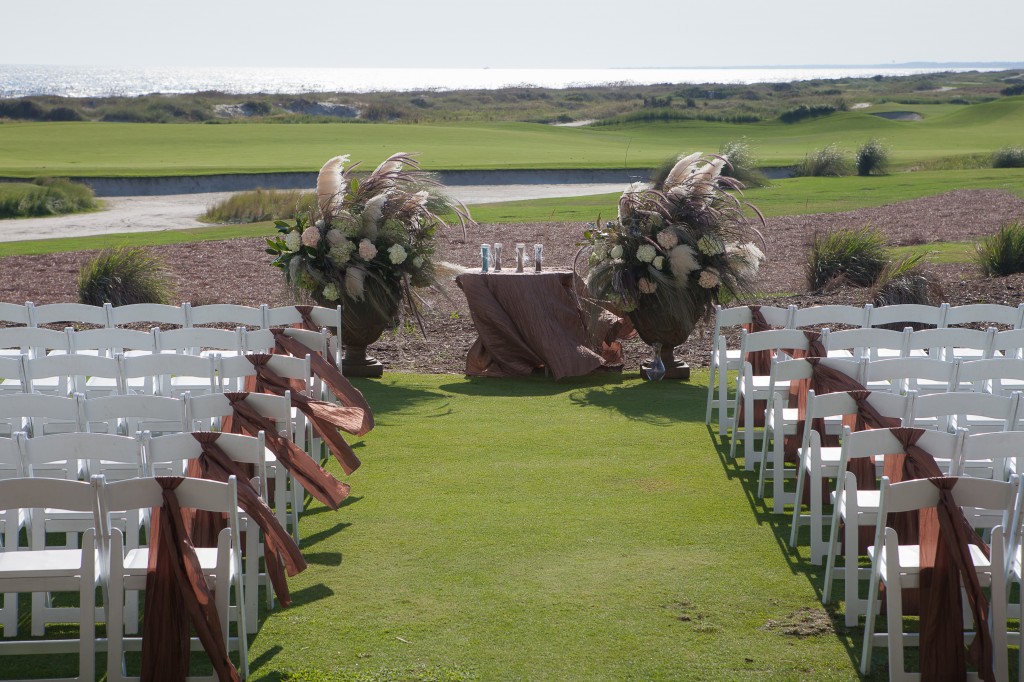 It isn't hard to see why Thea and Ron chose the Ocean Course at Kiawah Island to host their renewal…the view is gorgeous and serene. As a couple they have often "escaped" life for the weekend at Kiawah and it brought them great joy to be able to share their special place with the people they love most.
The color palette of earth colors: taupe, green, cream and a touch of blush pink was just stunning and understated at the Ocean Course.
As always the chef and staff of the Ocean Course did not disappoint..great food, drink and fun was had by all!
Our many thanks to MCG for the gorgeous pictures and to Thea and Ron for allowing us to help you create such a special day for you and your family!
Help Costal Living Magazine choose the cover for their Wedding Edition!
Kelsey's bouquet is Option C and we would love to see her bouquet on the cover!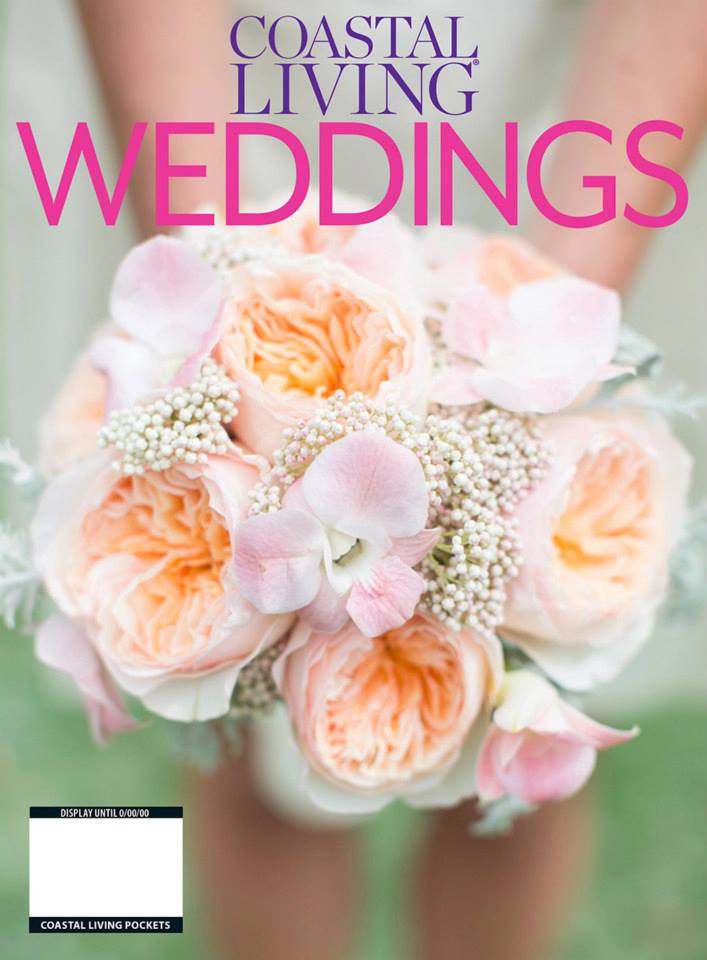 Cassique on Kiawah Island
June 2, 2012
If  you love color, geometric patterns, and a bit of a modern flair in design you will love Cassidy and Trevors Wedding.
We were thrilled to be the wedding planners for their special weekend. They kicked off the weekend with a welcome dinner at The Sandcastle on Kiawah Island.
The Wedding Ceremony took place on the lawn of the Cassique Clubhouse with a beautiful view of the course and the lagoon. We had a picture perfect day- blue skies, and comfortable temperatures. The ceremony took place in front of an arbor built by the bride's father. Our floral designer – Judy Johnston finished it off with beautiful colorful blossoms and Charleston Greenery.
Guests and bridal party enjoyed cocktails and hors d'eouvres in the beautiful Garden leading to the reception tent.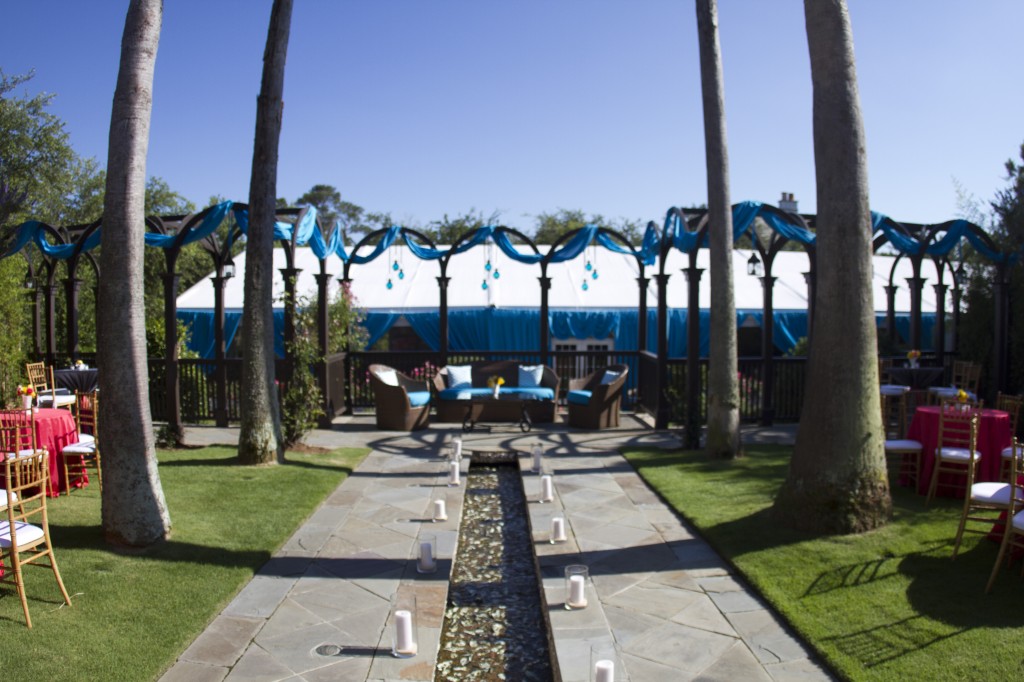 The Reception Tent was fashioned with grey linens and turqoise accents including the chevron patterned turquoise fabric as throw pillows, pendant shade covers, and runners. A custom monogram created by Studio R Designs was used to create a custom gobo that spot-lit above the band all evening.
The cake was designed by Elaine Mincey-the inspiration for the design was taken from the Bride's wedding invitation which contained several geometric patterns.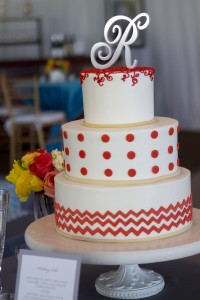 Thank you to Cassidy and Trevor for including us in their fabulous wedding weekend!
This fall we are thrilled to be planning another Vow Renewal!  After 30 years of marriage, the couple will be celebrating with a weekend of events on Kiawah Island.  The ceremony and party will both be held at the Ocean Course on Kiawah Island.
Here's a peek at there gorgeous invitations designed by Studio R and the art work was created by the bride's daughter who is studying graphic design.  Together they created an amazing invitation!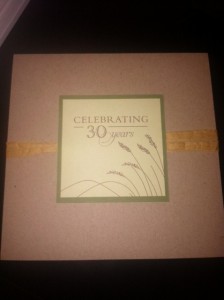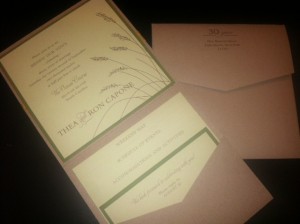 This will be our second vow renewal at Kiawah Island, last summer we had a 20 year Vow Renewal at the Sanctuary Hotel on Kiawah.  Not only is Kiawah Island an amazing place to have your wedding or host the PGA Golf Tournament, it's also a fabulous place to have your Vow Renewal!
Kristen and John at the Ocean Course
 After a quaint ceremony at John's Island Presbyterian Church,
gorgeous ocean views were the perfect scene for the  a swanky soiree at the Ocean Course on Kiawah Island!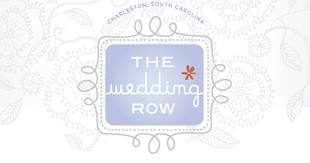 Photos by: Olive Productions
Photos by: MCG Photography
Setup by: Collette Mruk
Thank you so much for everything! I can't imagine having planned the wedding without you! From our first phone conversation, I knew that choosing you to coordinate our wedding would be the right choice. I have been so impressed with you – you are the best! Thank you for being so amazing – I just know Saturday will be a perfect showcase of all of our work. Thank you for doing such an amazing job. Please send requests for referrals my way – I will gladly oblige!