Kelsey & Patrick
The River Course- Kiawah Island
April 20, 2013
We were so excited when we found out that Kelsey and Patrick's wedding was going to be included in the exclusive national magazine "Coastal Living Weddings" we wanted to shout it from the roof tops and tell everyone! But we had to keep the images from you,…. and mum was the word until the magazine came out. As we shared with you a few weeks ago- the magazine is  now out and we are so thrilled to give you some more images and details about their exciting weekend!
Patrick's parents hosted a welcome party on Friday evening at Osprey Point Clubhouse- it was a fabulous event and we will share images of that with you soon.
Prior to the wedding weekend guests received their invitations. These were some of the most gorgeous invitations we've ever seen! We created them with the help of Heather at Sixpence press. Kelsey's mother had mentioned wanting to have the invitation be a booklet- so we worked with Heather to create a soft, romantic design. The booklet was a champagne colored silk and inside on the right, Heather mounted a letter pressed invitation, on the left was a pocket that held the invitation to the welcome party, farewell breakfast, map and reply card – all of these pieces were letterpressed as well. Heather also created a custom monogram seal, and had the booklet made with a lace and ribbon band.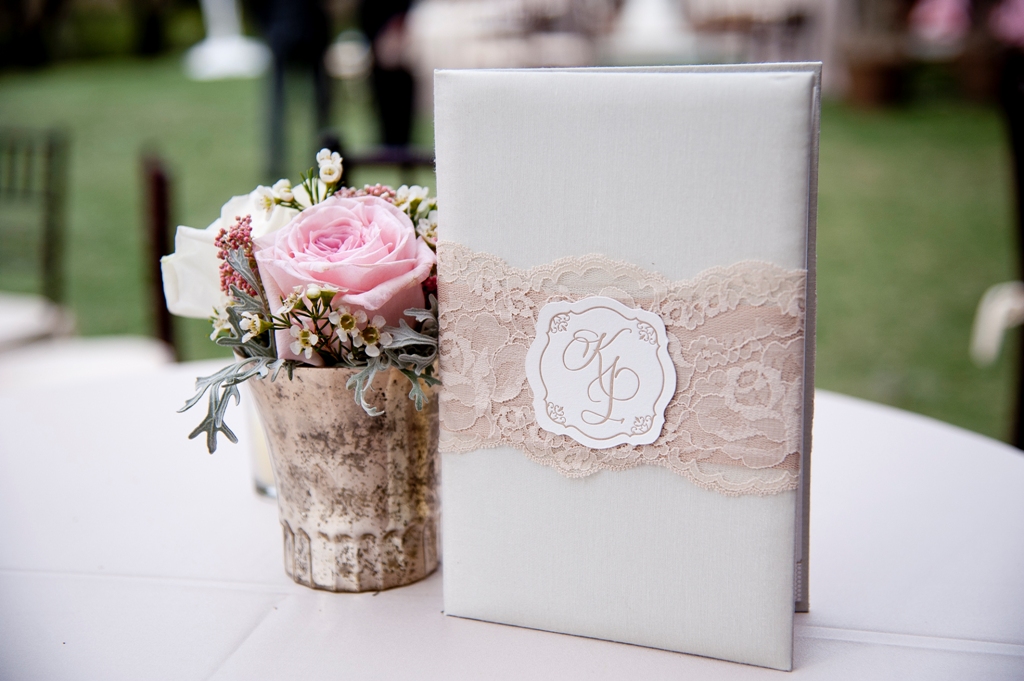 The wedding was on Saturday and to be honest the weather forecast was not encouraging- It was unusually cool that day, and overcast for most of the day- we had watched the weather carefully and while it didn't look like there was any sunshine in our future there wasn't supposed to be any rain either- so we went with the original plan to have the ceremony on the lawn. We adorned the ceremony chairs with lace and lamour sashes, and flower clusters of garden roses, coastal grasses, dendrobium orchids and wax flower. During the ceremony our vocalist Ann Marie Fairchild sang the Lord's Prayer- and while she was singing the sun came out- bright and strong…..- everyone just kind of looked at each other in shock and smiled. We all knew that the ceremony had been truly blessed!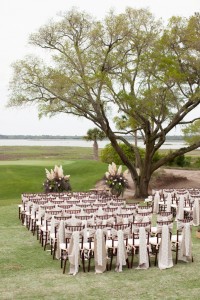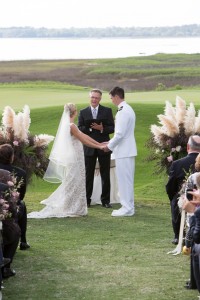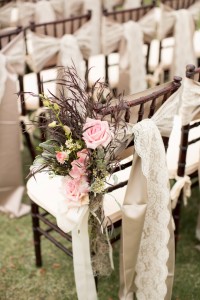 Then it was party time….cocktails were enjoyed on the porch and upper lawn. The Engaging Events team had created  a floral cascade over the opening leading to the lawn, we added pink champagne fabric to the archways, brought in tree's with romantic little white lights and a farm table with Lanterns and Rose Petals to add to the charm.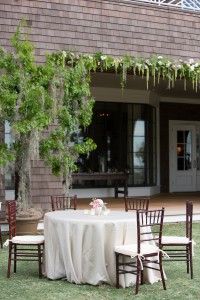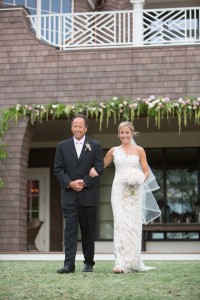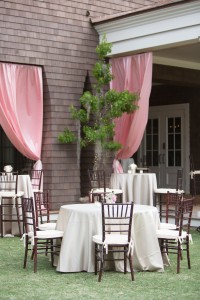 When it was time for dinner the guests entered the ethereal ballroom- chairs were draped with covers and tails from Wildflower Linens. The tables were draped with BBJ linens and overlays– and napkins tied with ribbon and a floral sprig. A custom Menu Card die cut to size by Sixpence Press – to fit in the hammered glass chargers from Snyder Event Rentals. The Mahogany Chairs were provided by Eventworks. We brought in more tree's and shrubs and filled them with white twinkle lights and used our White planter boxes to create a beautiful bandstand. Our floral designs with alternating tall and short arrangements was eye catching and romantic at the same time. And our lounge furniture created the perfect setting in the big bay windows of the River Course.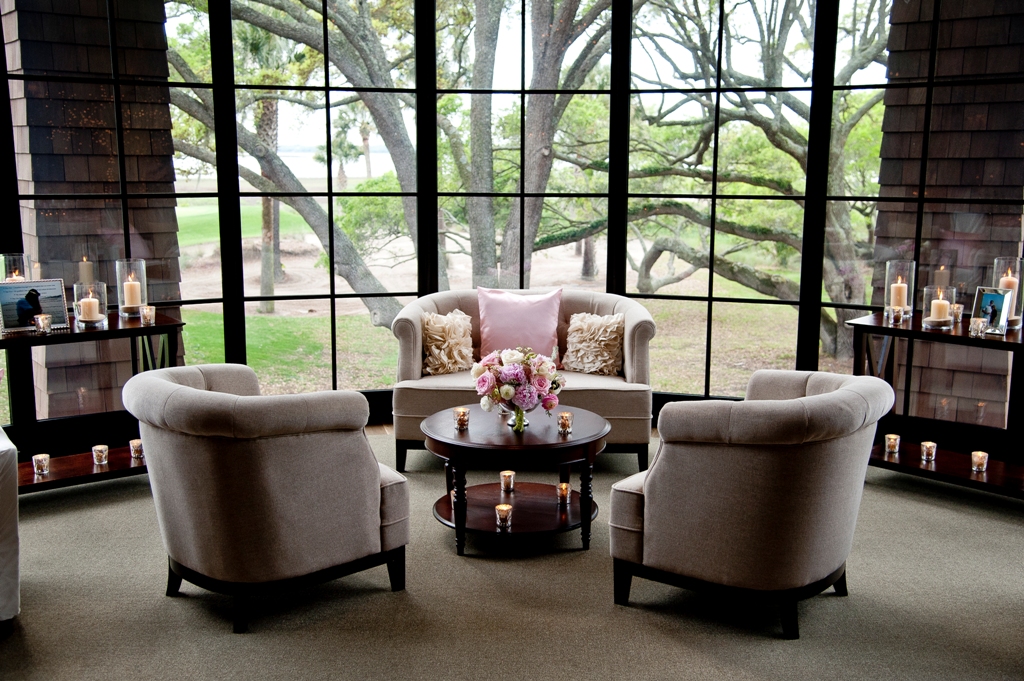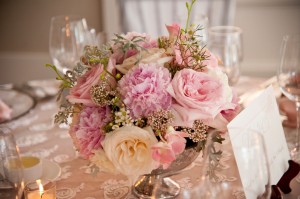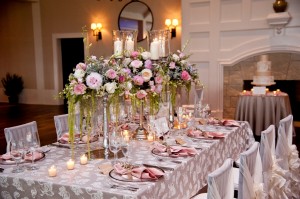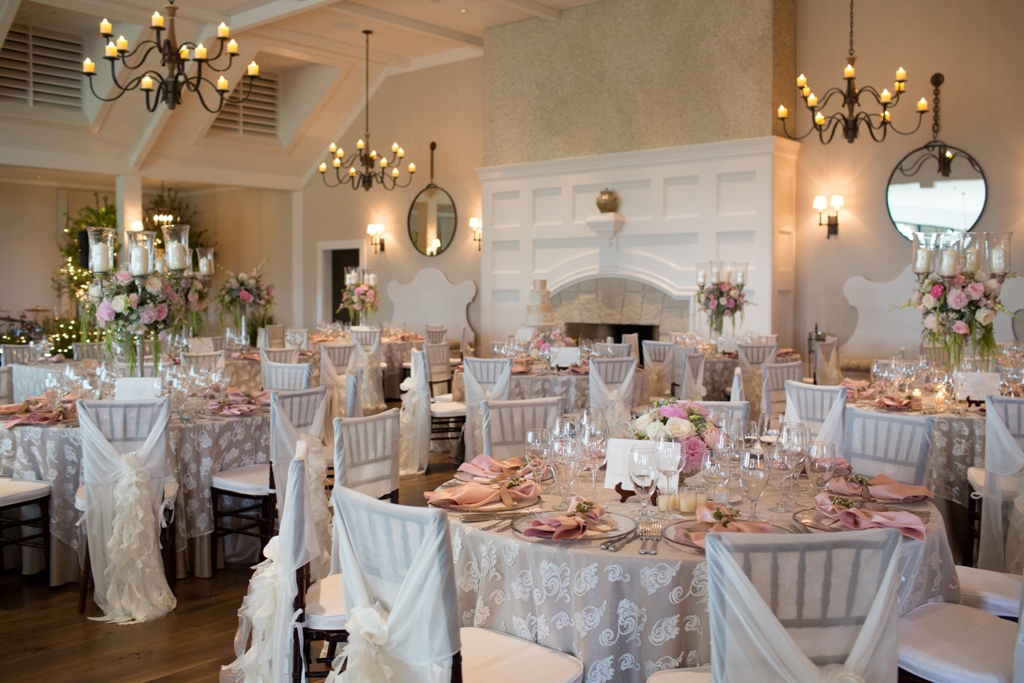 The wedding cake was inspired by the Bride's gown and created by Jim Smeal- a well known local baker.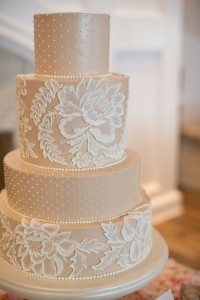 At the end of the nite- guests were bid farewell with favor bags of homemade caramel popcorn made by the River Course.
It was a fantastic evening- and wonderful families. We feel so lucky to have been able to get to know all of them and be a part of such a special day in all of their lives. Congratulations Kelsey and Patrick!