Zari and Drew
September 24, 2012
The Historic Rice Mill 
We spent a lot of time at the Historic Rice Mill last fall and are excited to share all of our unique designs with you!
For Zari and Drew's fabulous affair guests arrived from the church  with the reception entrance lined with luminary bags with custom designed seals from her inspiration fabric.
Engaging Events Lanternabra's framed the entrance as well!
Her color palette of Purple, charcoal grey, black and white was gorgeous in the Rice Mill.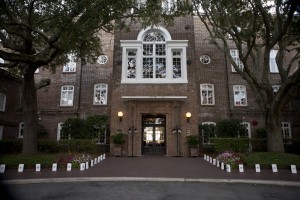 The Wedding cake was a show stopper on the beautiful antique sideboard of the Rice Mill. The design was taken directly from her save the date, Wedding Invitation and Wedding Program Suite. Many thanks to Jaclyn Story for this wonderful creation!
The custom fabric Zari chose was utilized in creating throw pillows, runners, and scanned onto printable vellum to wrap our glass candle cylinders.
Zari wanted the Marina Room at the Rice Mill to have a focal piece that would welcome and impress her guests at the same time…we created a tall community table down the center and our own Judy Johnston  fashioned a branch arrangement with hanging flower viles and votive candles that any bride would love to have!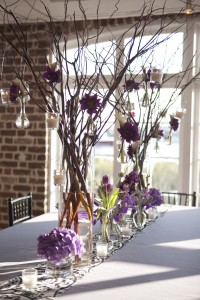 Zari and Drew were so wonderful to work with and we wish them much happiness in the years to come!