20 Year Vow Renewal
June 16, 2011
The Sanctuary, Kiawah Island Resort
We were thrilled to be the planners for a 20 year vow renewal in June at The Sanctuary.
It was a beautiful day for a special couple, and their wonderful family and friends. Their story is a truly romantic one,
to simply renew the promises they made 20 years ago, overlooking the ocean, a setting that has been so much a part of their past.
They chose a cake that was inspired from basket designs of American Indians- a part of their heritage.
Many thanks to Elaine Mincey for this beautiful and delicious cake.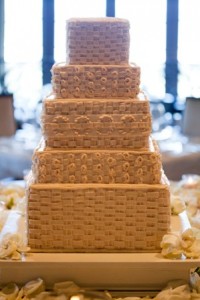 The guests were greeted with the beautiful aroma of gardenia's upon arrival to the cocktail hour at the beautiful Ocean Room Restaurant.
Guests were treated to luxurious table settings including silk linens, hammered glass charger plates with gold rim,
letterpressed menu cards presented in ivory bengaline napkins and once again the beautiful aroma of a gardenia.
The table names were street's the couple had lived on in the past or had special meaning to them.
They were presented on a 100% cotton paper calligraphied by Gayle Hilton of Calligraphy by Request.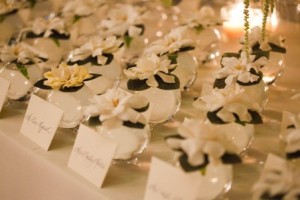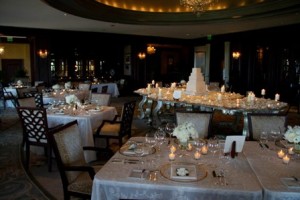 Following dinner- the adults moved to the Grand Oaks Ballroom for Candlelight Dancing. They were treated to rich ivory tones and textures,
with lounge seating areas, Cabaret Seating, gorgeous flowers and dramatic floral tree's with hanging crystals and votive candles.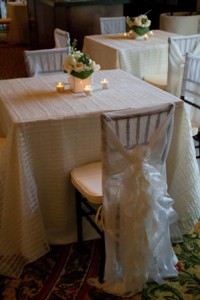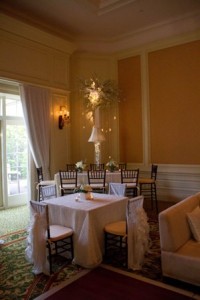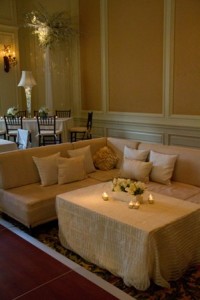 It was a beautiful June evening, so having access to the patio from the Grand Oaks Ballroom was an added treat.
Engaging Events lounge furniture, lamps, additional cabaret tables and fabric draping from the pergola above
created a cozy welcoming atmosphere throughout the evening.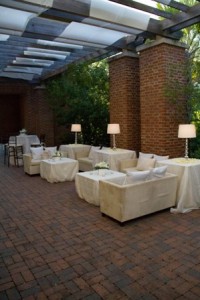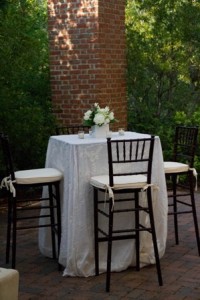 We were so glad to be a part of their special day and want to thank the wonderful staff of the Sanctuary,
Eventworks, Snyder Event Rentals, and Kenneth from Presentation Services for all of their help, and products to assist us in creating such a gorgeous event.