Tag Archive:
Good Food Catering
Photos by: Faith Harris Photography
Photos by: MCG Photography
Kristin and Travis
French Huguenot Church & The Historic Rice Mill
October 13, 2012
If you find yourself being one of those brides or grooms that find they have a very traditional and classic side but love the style/design of a modern affair too…check out this wedding! It has all of those elements wrapped up in one…It is just stunning and we were so happy to be a part of the special day Kristin and Travis planned.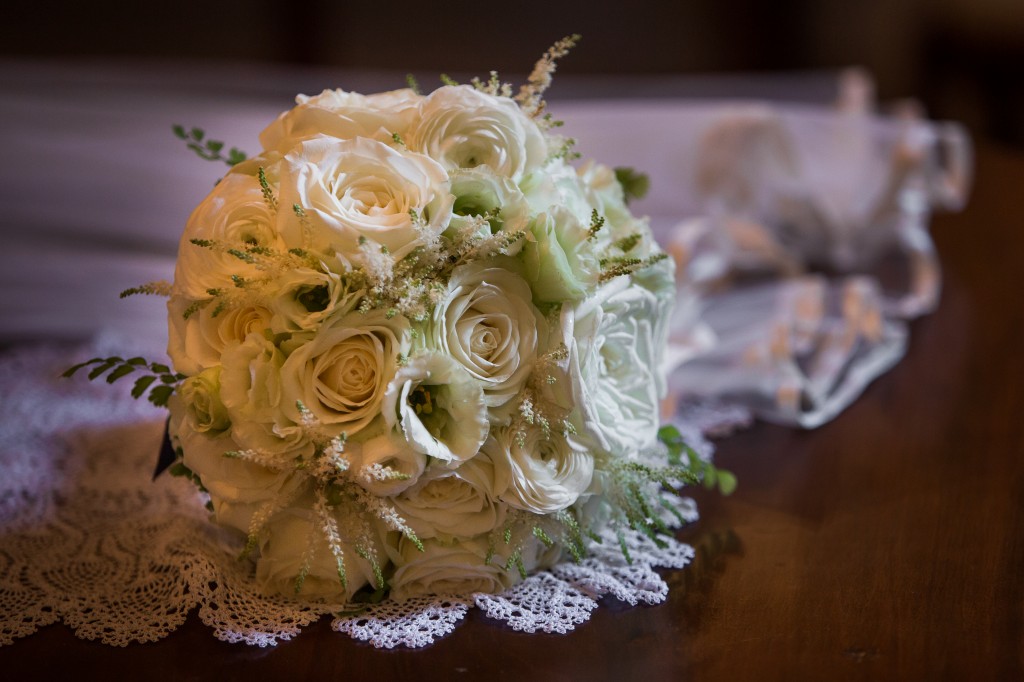 We had chosen this fun navy and white fabric and had our tailor make napkins and overlays for us!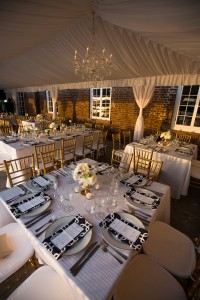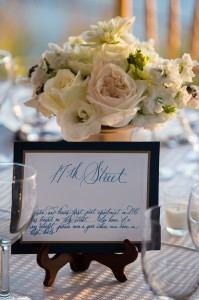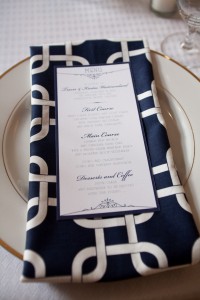 Kristin and Travis chose different locations and restaurants in DC as their table names and we had our Calligrapher style the table signs with the name and a little explantation of why it was significant to them as a couple:)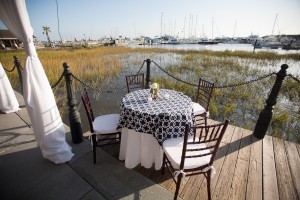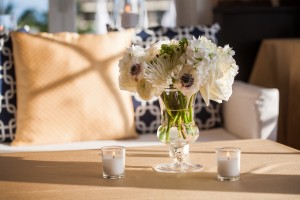 We love the design of this wedding and hope you do too!! Just goes to show you that even if you like different design styles we can incorporate them in a way that you truly can "have it all!"
Cathy and Shaun
The Historic Rice Mill
December 2012
We were thrilled to help Cathy and Shaun with the design and décor and day of coordination for their December wedding last year.
It was held at the Historic Rice Mill on one of our beautiful December days.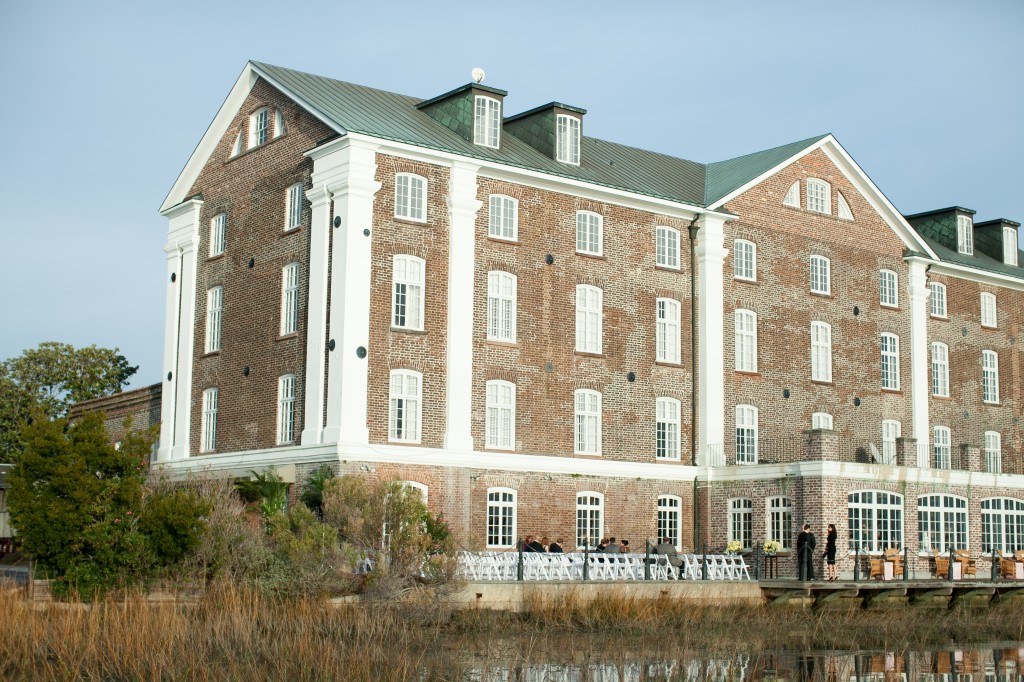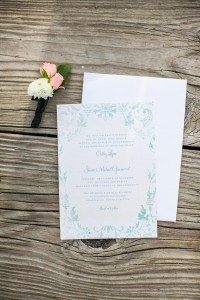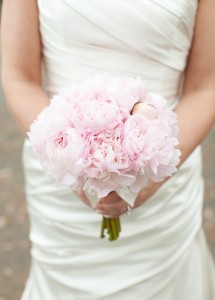 Pink Peonies are Cathy's favorite flower and our own Judy Johnston wiggled her nose and made them appear in December! No small feat!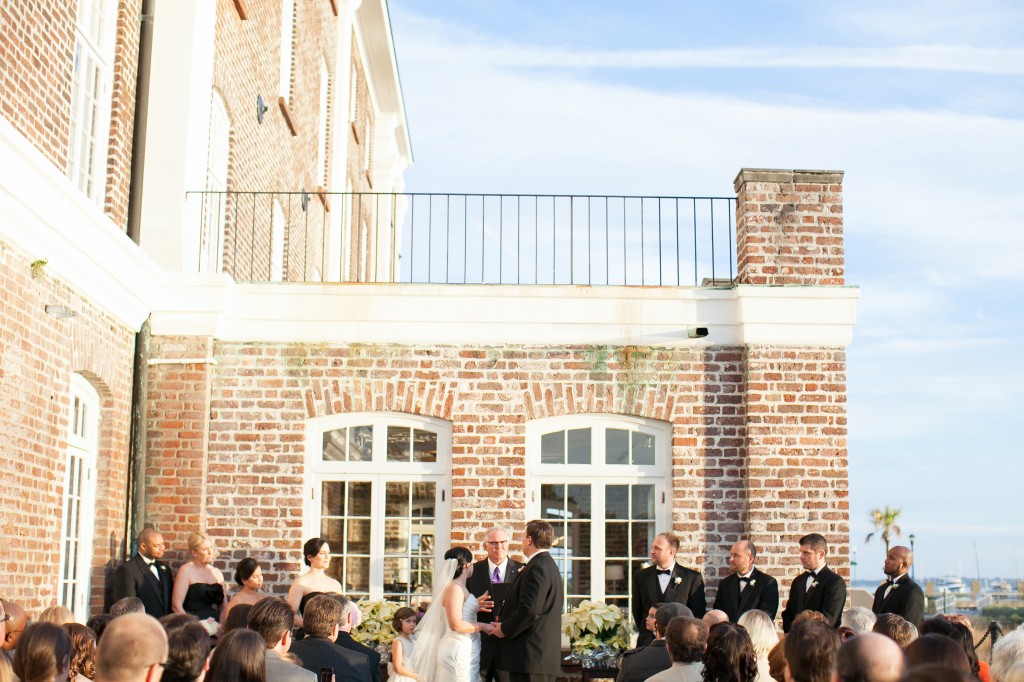 A custom made hydrangea print served as the guest book.
Engaging Events fashioned a hydrangea wreath and hung on the beautiful brick wall in the entry of the space. Our Console table below held family, and couple photos.
Our sofa seating area held our grey pillows along with some monogrammed pillows Cathy had made.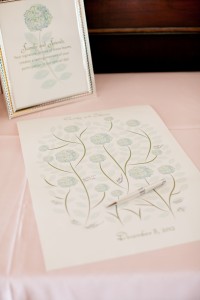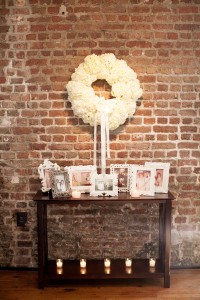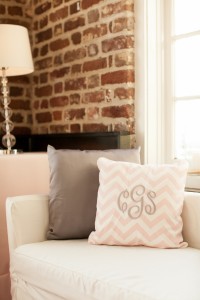 We utilized our café lighting on the patio creating that oh so sweet romantic feel:)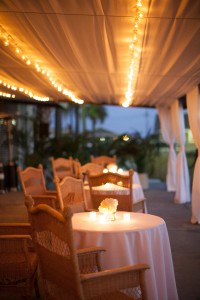 It was a beautiful December evening and we were so thrilled to have been a part of it!
Joanna and Steve
The Historic Rice Mill
October 11, 2012
We were thrilled to be selected by Joanna and Steve to help them design their wedding and handle day of coordination last fall.
Joanna and Steve held their wedding on a Thursday…10.11.12 ….they loved the date significance..
They are true patriots – Steve is a policeman and they have several family members who have served in the military including Joanna's father. So they wanted to honor them with photo's and memorabilia as well as the red, white and blue color scheme.
God Bless America and this sweet couple….
Their ceremony was held on the open Patio of the Historic Rice Mill.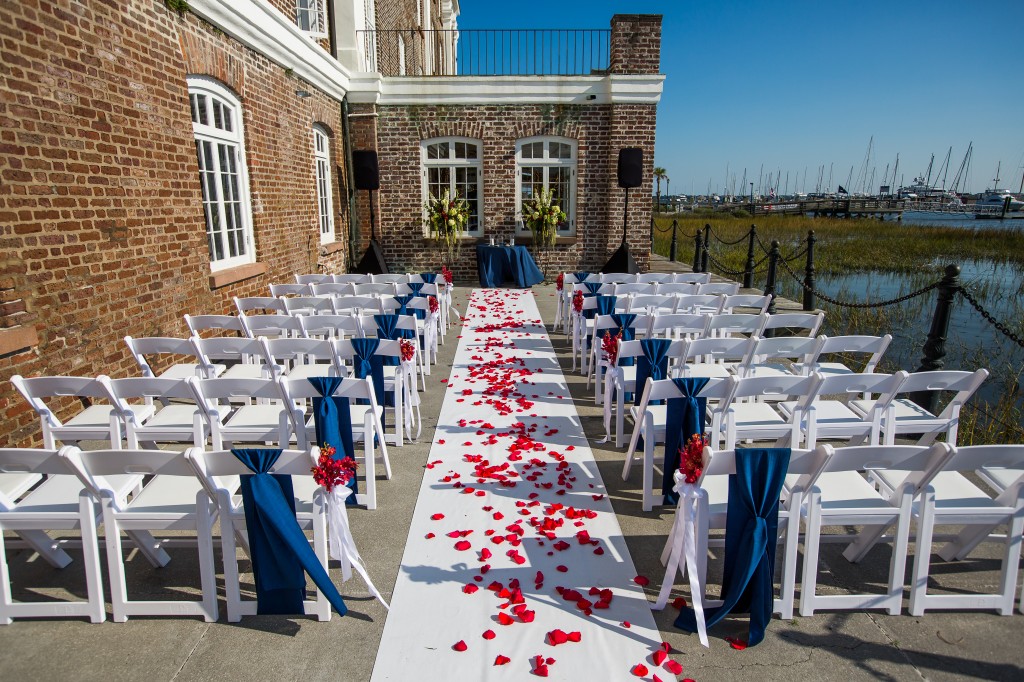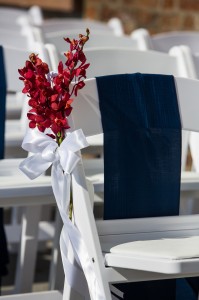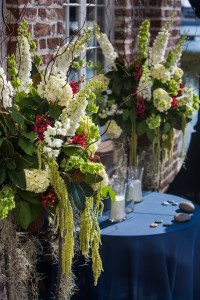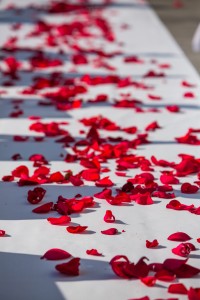 They chose a tapas station style reception utilizing all of the beauty of the inside of the Rice Mill along with the covered patio and the super cool mahogany bar area.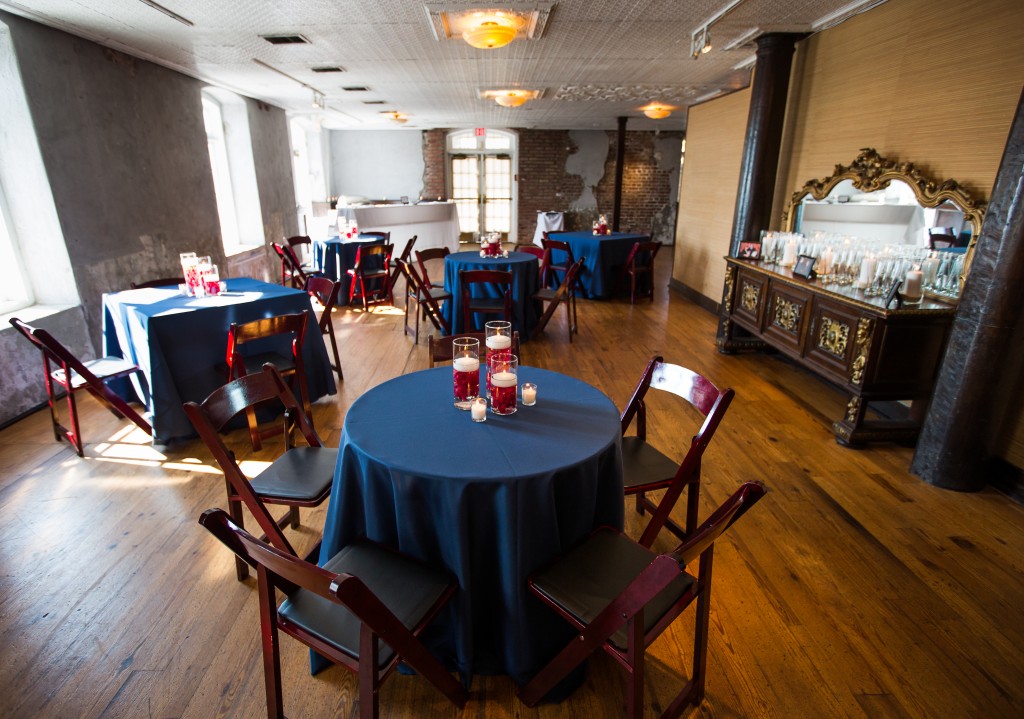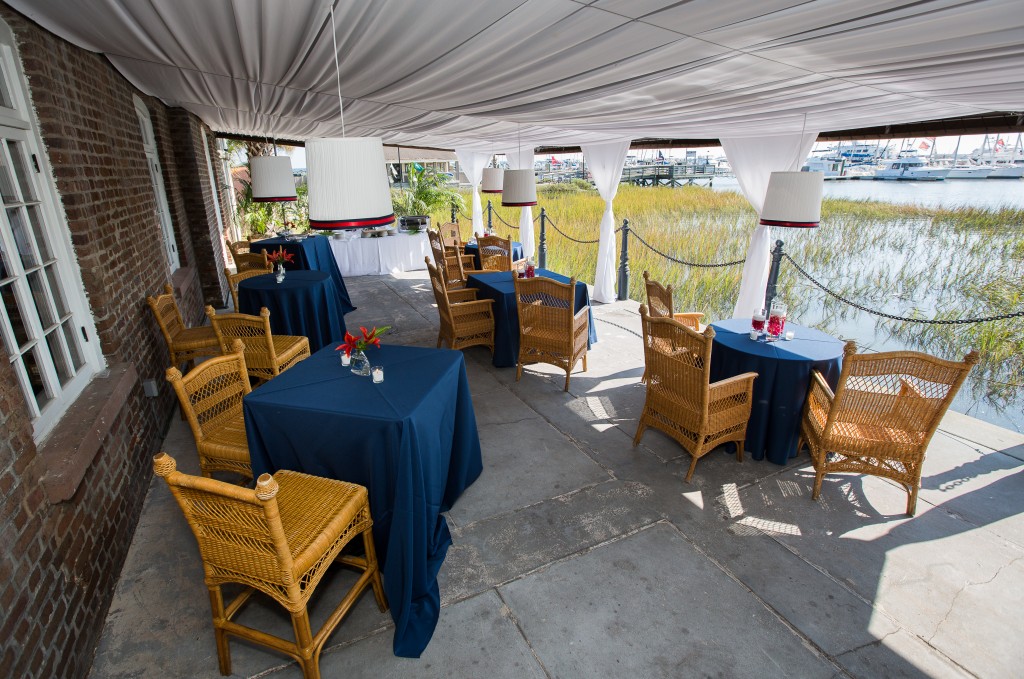 Thanks to Joanna's family for allowing us to be a part of this special day….
Zari and Drew
September 24, 2012
The Historic Rice Mill 
We spent a lot of time at the Historic Rice Mill last fall and are excited to share all of our unique designs with you!
For Zari and Drew's fabulous affair guests arrived from the church  with the reception entrance lined with luminary bags with custom designed seals from her inspiration fabric.
Engaging Events Lanternabra's framed the entrance as well!
Her color palette of Purple, charcoal grey, black and white was gorgeous in the Rice Mill.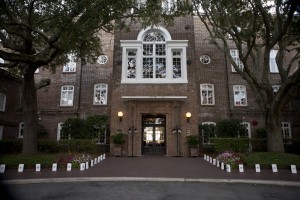 The Wedding cake was a show stopper on the beautiful antique sideboard of the Rice Mill. The design was taken directly from her save the date, Wedding Invitation and Wedding Program Suite. Many thanks to Jaclyn Story for this wonderful creation!
The custom fabric Zari chose was utilized in creating throw pillows, runners, and scanned onto printable vellum to wrap our glass candle cylinders.
Zari wanted the Marina Room at the Rice Mill to have a focal piece that would welcome and impress her guests at the same time…we created a tall community table down the center and our own Judy Johnston  fashioned a branch arrangement with hanging flower viles and votive candles that any bride would love to have!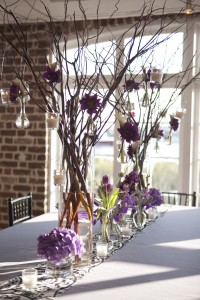 Zari and Drew were so wonderful to work with and we wish them much happiness in the years to come!
Regina and Rachid's Wedding at the Carriage House at Magnolia Plantation and Gardens
"Love affiar with Charleston…"
Church of the Holy Communion
Photos by: Liz Duren
The Historic Rice Mill
October 22, 2011
Laura and Jason tied the knot at The Church of Holy Communion on Ashley Avenue. The church is a beautiful place of worship..but what made it even more beautiful to this fabulous couple was its history….to her family….Laura's grandparents and parents were also married at this church….what a wonderful tradition for her to make her own….
They followed the wedding with a fantastic reception at the Historic Rice Mill..many thanks to the crew of Good Food Catering for another fantastic event.
Elaine Mincey created the cake; a design featuring "ruffles" of icing…one of Laura's favorite fashion trends…
We used the Engaging Events lounge furniture in the beautiful Marina room – a room with 3 walls of windows overlooking the marina and harbour. We paired our fun lamps with the sofa seating areas, which were adorned with throw pillows in the custom fabric we used throughout the design of the event. Laura created a fabric on a custom fabric website we then used the pattern as a  band and envelope liner in her invitation suite – created by Studio R Designs. We followed that up with using the fabric for throw pillows, runners and other custom accents. A printable vellum of the pattern to cover our glass cylinders helped to  customize the design of this wedding.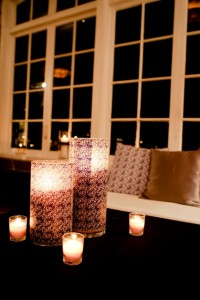 The fabric could even be found on our pendant lights on the patio!
One of our favorite flowers is the orchid and the one shown above is called "Sexy Blue" doesn't the name just make you want to buy it?!
In any case they looked fantastic paired with the custom runner….
We tented the open patio at the Rice Mill using a white tent with liner and lighting it with the  Engaging Events crystal chandeliers. A White plantation bar from Snyder Event Rentals, and the Engaging Events white back bar shelves added to the patio's charm. The raw bar provided by Good Food Catering…didn't hurt the popularity of this spot that nite either:)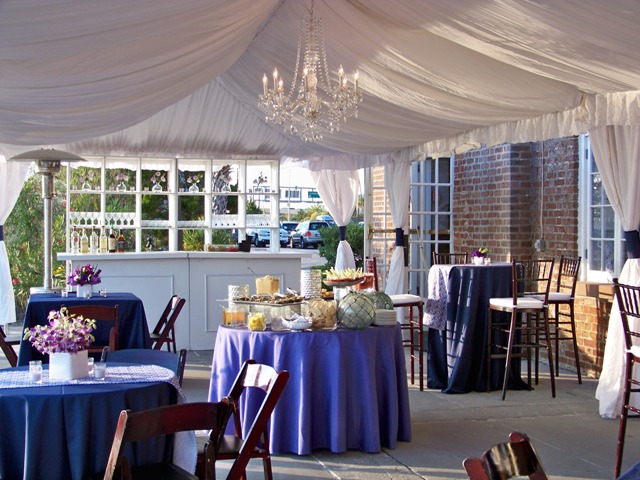 We wish Laura and Jason many happy years of marriage and were thrilled to be a part of their day!
The best part about working with Cindy at Engaging Events is knowing that every single detail, no matter how minute, will be checked and double checked and executed exactly to the clients' wishes. I rarely have to ask her questions because she's always one step ahead of me anticipating my needs and getting me the information. And at the end of the day, I am in awe every time by how stunningly pulled together the entire evening is, mostly, I believe, due to her creativity and eye for details.