Legare Waring House
May 25, 2012
What a way to kick off the Memorial Day Weekend…we began it at the Legare Waring House on Friday, May 25th. The couple- Megan and Evan- are so sweet and so in love…we were so thrilled to be a part of their special day!
They were married under the avenue of oaks and in all honesty couldn't have asked for a better day- the sun was filtering through the tree's throughout the ceremony …it was just stunning.
Megan's color palette of purples and whites came together beautifully…..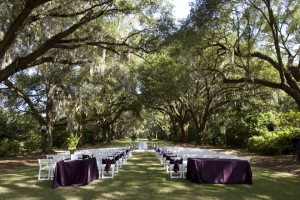 The aisle was framed with our white shepards hooks with hanging floral vases, the couple was married on an elevated platform and framed off with these beautiful sprays of purple and white gladiola's. The Wedding programs were letterpressed by the super talented Heather Forsythe of Sixpence Press.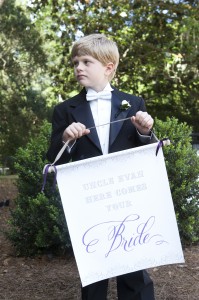 The Tent was lined in white, with our crystal chandeliers and perimeter lighting on dimmers for adjustment throughout the evening.
Centerpieces of white flowers on eggplant linens was stunning…to add to the design our florist-added pearls to each of the floral containers.
A White Plantation Bar served as the drink station where a wonderful variety of non alcoholic drinks were offered in our drink dispensers.
The bar and these umbrella tables overlooked the lagoon…..where alligators are often seen:)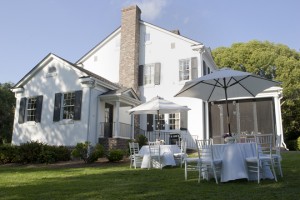 The inside of the Legare Waring housed photographs of the bride and grooms parents, along with the cake.
The Cake was designed by Elaine Mincey and was inspired by Megan's gown.
It was a gorgeous day, a gorgeous wedding and a great party! Our thanks to our vendors:
Julie Ann and Gabrielle from Legare Waring House, Mosaic for the fabulous food, Elaine Mincey for the stunning cake, Sixpence Press for the custom signage and wedding programs, Atlantic Tent's for the beautiful tent, BBJ Linen, Hal from Lee Edwards Entertainment, and our wonderful floral team headed by Judy Johnston.
Congratulations Megan and Evan- we are so excited for you!