Tag Archive:
drink tower
The Island House
November 19, 2011
Finally…..we had the opportunity to help a wonderful bride with her Charleston Wedding Planning at a venue we had longed to create a design for…The Island House….
Kiosha and Josephs fall wedding took place on a beautiful day in November….the ceremony backdrop was a beautiful waterway and marsh; and Judy Johnston our floral designer, added to the beauty of the setting with urns filled with grasses from this region, blue hydrangae and deliphinium.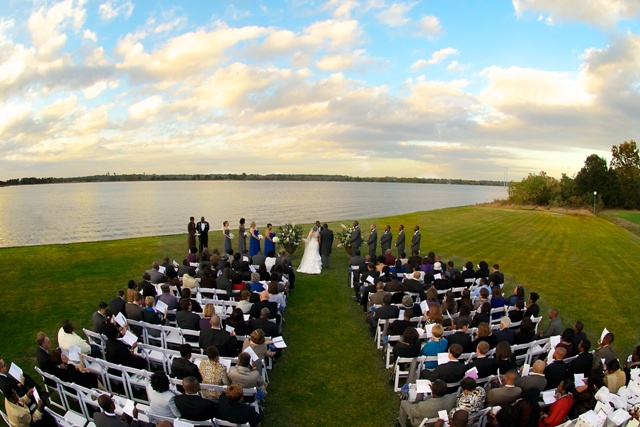 The Brides priorities were to have  a beautiful design and an organized day and that is where we came in… to ensure her Charleston Wedding Planning experience was organized, creative and most of all fun….
She grew up on Johns Island so when she and her family discovered the Island House just down the road from where she grew up she knew it was the place….she wanted a more formal affair and enlisted our help because of our Design experience – in particular with draping tents.
Our Bride knew her color scheme right from the start; cobalt blue, pewter and white….and so that begins our design story…
In the photo's above you see the cobalt blue hydrangae used for her chair markers; Engaging Events shepards hooks and lanterns that created a walkway from the ceremony to the reception tent…and the 3rd photo is of the urns that framed the ceremony area.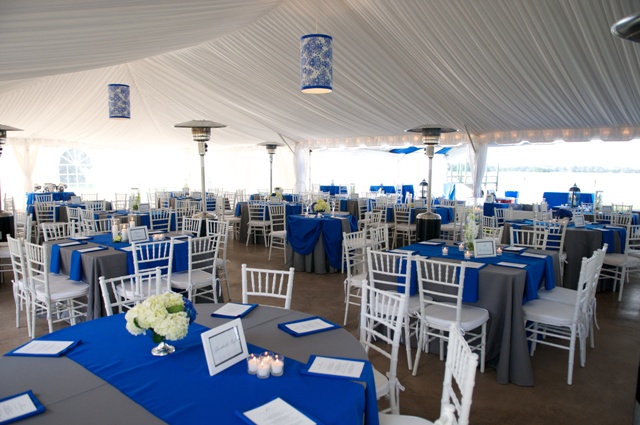 Kiosha and Joseph's reception was held in the existing tent facility along with a tent the Engaging Events team had added …the guests enjoyed cocktails followed by a seated dinner then dancing in this space…We added a Tent liner to the existing tent (thanks to Eventworks for a beautiful job wtih that) along with Engaging Events custom drum shades for lighting in addition to the existing perimeter twinkle lights. Their were 3 different styles of centerpiece for the dinner tables, and menu cards at each placesetting.
The tent added on was provided by Atlantic Tents and was an open gable tent overlooking the water…in this tent guests enjoyed the Engaging Events lounge seating, dancing and bar.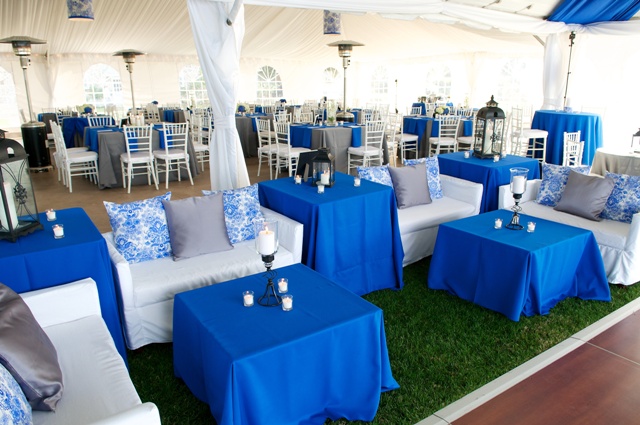 We were so thrilled to be able to have an event at this venue with such a fantastic couple and I would be remiss if I didn't mention Kiosha's mom who helped her and I with all the plans…she was a blast to work with too – so thanks Stephanie!