Chloe and Preston
Magnolia Plantation
August 7, 2010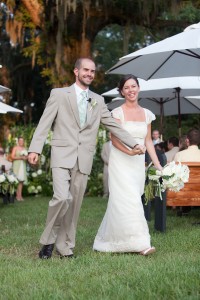 We were so happy to be a part of Chloe and Preston's Wedding…they are a super couple
 and their wedding had so many wonderful unique touches!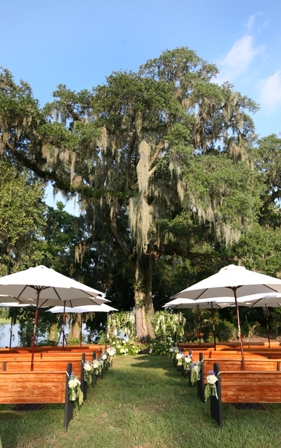 Their ceremony took place under the big beautiful oak at the Carriage House at Magnolia Plantation -
overlooking the Ashley River. We utilized Charleston Gates covered with spanish moss, greenery, dendrobium orchids
and planter boxes filled with cream hydrangae as the backdrop for their ceremony.
Their guests enjoyed the ceremony from the authentic Church Pews,
shaded with umbrella's and decorated with mason jars filled with flowers.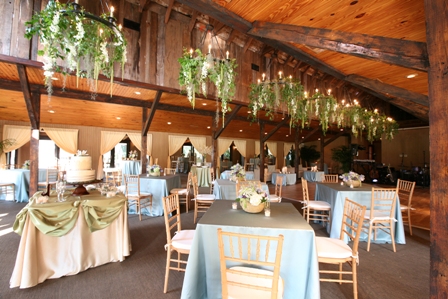 The Inside of the Carriage House featured the chandeliers decorated with spanish moss, greenery and white blossoms.
We utilized soft aqua blue color linen with an apple green linen and natural wood chairs for a soft and pretty atmosphere.
Engaging Events added to the look by draping fabric over the doorways,
and utilizing sweet grass baskets as containers for her wildflowers.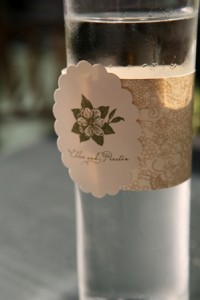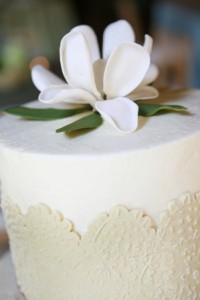 Chloe's dress and the location were a big inspiration in much of the design.
 Studio R created save the dates, invitations and these great bands and seals for her specialty drink
utilizing the lace pattern from her dress and the magnolia blossom to represent  the location.
Elaine Mincey utilized the lace design in the pattern you see on the cake, and then topped it with one of her signature magnolias.
Many thanks to all the vendors who made this nite so magical for Chloe and Preston, and to Taylor Stewart and MCG Photography for the great images!