To start off the busy spring wedding season, Engaging Events was asked to take part in a photo shoot for The Bride Book magazine!  The Location was  beautiful Osprey Point on Kiawah Island.  Osprey is an amazing venue!  Not only is it nestled among  the gorgeous views and landscapes of Kiawah Island but this venue has a lot to offer and an endless amount of possibilities.
The Osprey clubhouse  is beautifully decorated on it's own but with its darker carpet, curtains & wood beams, it does have a more masculine, dark look that can make it hard for some to be able to visualize having anything but a fall reception there.  We really wanted to take this opportunity to show how any space can truly be transformed into the wedding of their dreams for any season!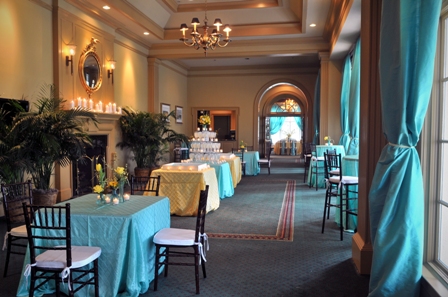 One way that we softened the look of this venue was by covering their existing drapes with our own fabric!  The draping really brightened up the space while enhancing it's existing beauty.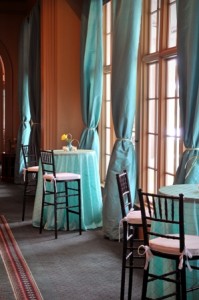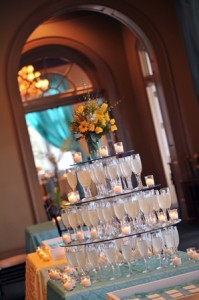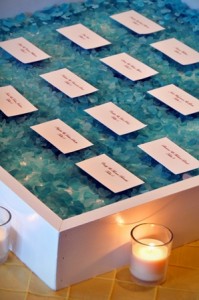 The Grill Room at the Osprey is the perfect spot for a cocktail hour before dinner, or an additional space for seating and food stations with a Heavy Hors d' oeuvres reception.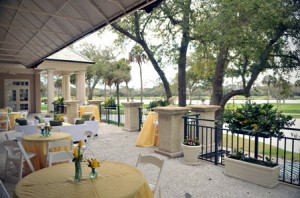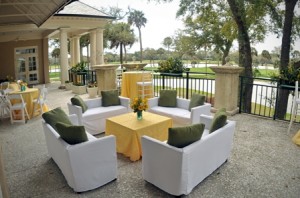 One of my favorite areas is the porch! It not only allows you & your guest to enjoy the beautiful view but the porch extends the whole length of the building!  We really wanted to showcase this space because whether you plan a seated meal or a roaming food station reception , this space will definitely be a popular spot with your guests…and remember for those smaller more intimate affairs the porch could also serve as your ceremony site!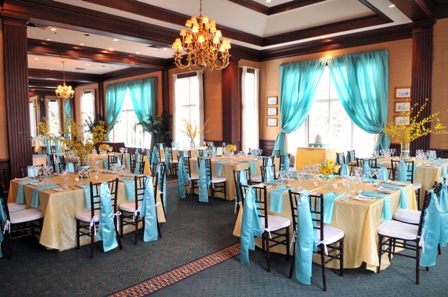 The main room at the Osprey is full of elegance and charm and the warm yellow linen (rented from Connie Duglin Linen) with the tiffany blue accents really brightened up the space. The ballroom is very versatile and can really be used a number of ways, whether you are looking for a seated meal as featured here, or food stations.  The view from this room is just gorgeous, the lagoon, the palms and of course the elegant and timeless southern oak tree's.