Need a fun, creative way to make your cocktail hour stand out? Why not choose an amazing specialty drink for all your guests to sip on while they are waiting to celebrate YOU!
Placing a unique drink tower as a focal point does not only add elegance to your big day, but also helps take a lot of pressure off your bartenders. Having a drink pre-made for your guests to quickly grab and start sippin' helps avoid the usual swarming of the bar right after the ceremony.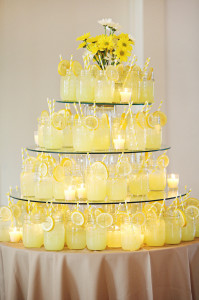 Yes, here in the South, Sweet-Tea Vodka and Lemonade is "the go-to" obvious drink of choice. But why not mix it up? Here are a few tips on how to choose your signature drink: Choose something with a pop of color, but also that goes with your theme! Don't over complicate your drink; keep it simple with one or two liquors and a mixer. Then top it off with some colorful fruit or garnish. Pick something that is sentimental to you—this day is all about you and your other half. Give people a taste of what makes you a unique couple. Last but not least, TRY your own drink! No one wants to serve a cocktail that isn't tasty. Make your signature drink something all your guests, hopefully, will remember.