With wedding season upon us we'd like to talk about Save the Dates, Invitations, and most importantly the Post Office. With the postage rate increase this January, it got us thinking about how important it is to have all of your wedding paper goods weighed for postage.  At Engaging Events we take a sample the save the date and invitation to the post office and have them weighed for postage prior to purchasing the postage.  This is a very important step in the process of mailing out your save the dates and invitations.
Oversized and heavy weight invitations require additional postage and the .60 wedding cake stamp is not enough.  It is also a good idea to have your invitation weighed prior to purchasing stamps because if your invitations has bulky items incorporated in the design (bows, wax seals, etc) it may be considered a parcel which requires a different type of postage.  When your invitation is sent as a parcel it goes in a different pile from the regular mail, so during security check the parcel invitations do not get ripped or ruined from the security slots. So what to do when your invitation requires additional postage?
We use various sites that let you create your own stamp, yes customizable stamps! A few of our favorite custom stamp websites are: http://www.zazzle.com/stamps and http://www.pictureitpostage.com/
Both sites let you create custom stamps with your own image and in the denomination you need!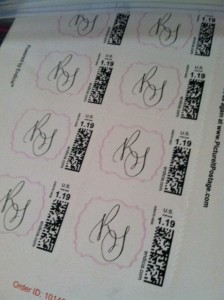 Now that you've got the correct postage another important things we do at engaging Events is hand cancel every invitation that goes out.  The cancellation stamp is used to "deface" the stamp so it cannot be reused and by doing this the letter does not have to go through the postal machine that puts the large barcode across the top of the invite.  There was a lot of time and money put into those invitations, sending them with a cancelled stamp also gives the first glimpse to where the wedding will be if you send them from a post office in the city you're hosting the wedding!
And just a reminder! Save the dates should be mailed out six to nine months before your wedding.  Invitations should be mailed out seven to eight weeks before a destination wedding and six to seven weeks for a local wedding.