The Cotton Dock at Boone Hall Plantation
May 31, 2012
A splendid mix of Rustic, and Vintage in Design is the best way to describe Arielle and Ret's Wedding at Boone Hall Plantation. The front lawn of the main house was the location of the nuptials. We truly enjoyed working with this fun and sweet couple during the whole wedding planning process.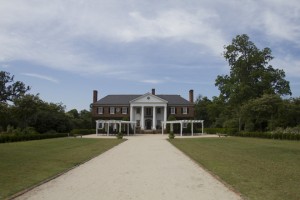 The Wrought Iron Gates served as the altar area where Arielle and Ret exchanged vows with the help of 3 pastors….Arielle's father, and two of their pastors from their church. We decorated the gates with charleston greenery and a beautiful mix of cream and purple blossoms. the aisle was framed with our shepards hooks with moss covered containers containing stock, orchids, ranunculous, and of course  a little cotton ….can't be at Boone Hall Plantation and not have some cotton!
The Cotton Dock at Boone Hall was dressed in purple and cream, we used mahogany wood chairs and farm tables as well as wood floral containers.
Guests were greeted with Mojito's to begin the festivities.
They danced the nite away under the stars on the Dock of the Cotton Dock to the sounds of the Travis Allison Band.