Ariel and Brett
The Historic Rice Mill
Ariel and Brett were married Memorial Day Weekend at the Historic Rice Mill
overlooking the City Marina.
The backdrop for the ceremony was a wrought iron arbor fashioned with white flowers and white fabric.
The aisle runner and the chairs were also white.
Engaging Events tied raspberry pink sashes to the aisle chairs
and our florist tied purple orchids to the aisle chairs.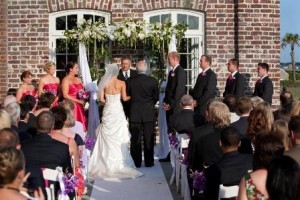 Ariel carried a bouquet of white casablanca lillies, pink roses, purple sweet pea, stock,and ranunculous.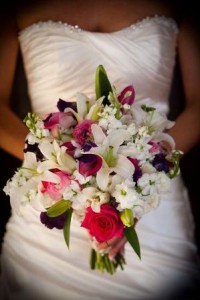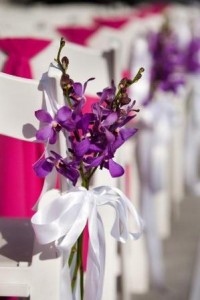 The guests were treated to a variety of flavors of candy in pink and purple-
with self sealing bags with a pink seal containing Ariel and Brett's names.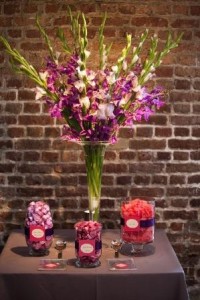 The Dinner tables were draped with charcoal grey linens, raspberry pink runners and napkins.
The Centerpieces were in silver urns and contained purple stock, purple orchids and purple sweet pea;
pink roses, pale pink spray roses, godetia, and ranunculous.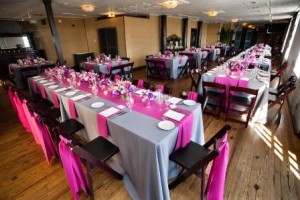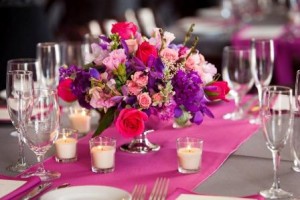 In lieu of a wedding cake, Ariel and Brett chose to treat their guests to cupcakes.
They came from their favorite place "Cupcake" on King Street in Charleston- they had frequented the
shop during their courtship- so it is a special place for them.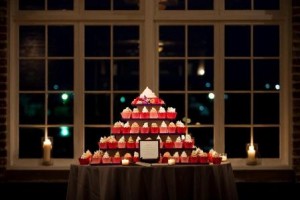 The ceiling of the covered patio was draped with White fabric by Engaging Events.
We lit the patio with a variety of shapes of white Asian lanterns; and furnished it with
our white sofas, throw pillows, and coffee tables.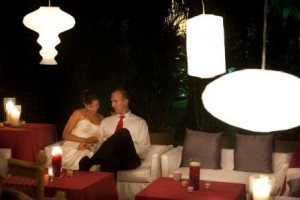 We congratulate Ariel and Brett on their wedding and wish them all the best in the years to come!